Match Sponsorship at the Exeter Chiefs
Join us at Sandy Park for our headline package that not only provides top of the bill listing on a match-day, but exposes your brand to an audience of nearly 500,000 engaged supporters.
Experience the very best Westcountry produce with our wonderful dining packages, as well as warm and friendly service, soaking up our unrivalled match-day atmosphere.
As match sponsors you are welcomed into the Chiefs family on game day, presenting the Man of the Match award on the pitch immediately post-game, receiving a signed Exeter Chiefs official match shirt, and enjoying conversations with players and coaches both pre & post-match.
From the moment you arrive at Sandy Park to the time of your departure, you will be assured of a VIP experience and a day full of memories.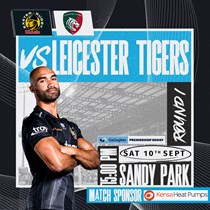 What does the package include?
• Gold Chiefs Suite Hospitality Package (further information can be found here)
• Joined by an Exeter Chiefs player at your table
• Branding on all pre and post match social media posts and newsletters
• Match Day branding in match day programme, big screens, LED board beneath scoreboard and tannoy announcements throughout the day
• Opportunity to select and present the Exeter Chiefs Player of the Day award on the pitch
• Presentation of a signed Exeter Chiefs jersey on pitch
Priced at £5,750 exc. VAT