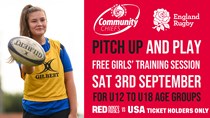 PITCH UP AND PLAY - 3rd September 2022
We're running a Pitch up and Play event before the England v USA fixture at Sandy Park on Saturday 3rd September.
The event will take place between 11:15am to 2:00pm and be for women aged U12, U14, U16 and U18. The coaching sessions will be taken by the Community Chiefs and the Exeter Chiefs Women's coaches.
If you would like to book onto the Pitch up and Play, you must first ensure you have purchased a match ticket. Then, you can book your place by clicking here.
Spaces will be given on a first come, first served basis and you will not be able to take part in the training event without pre-registering to the Pitch up and Play.
Pitch up and Play tickets will not give access to the stadium as your match ticket will be required for this. Registration will be between 11:15am and 11.30am, with coaching starting at 12.00pm.
Equipment needed:
Full training kit
Appropriate footwear (plastic or short studded boots advised)
Trainers if prone to blisters
Plenty of water/ juice
Weather appropriate protection (sun cream/waterproofs)
Contact gear (mouth guards, head guards)
Change of clothes (WASHING FACILITIES WILL NOT BE PROVIDED)
For any queries regarding the event please email: