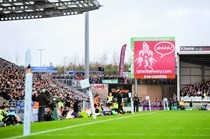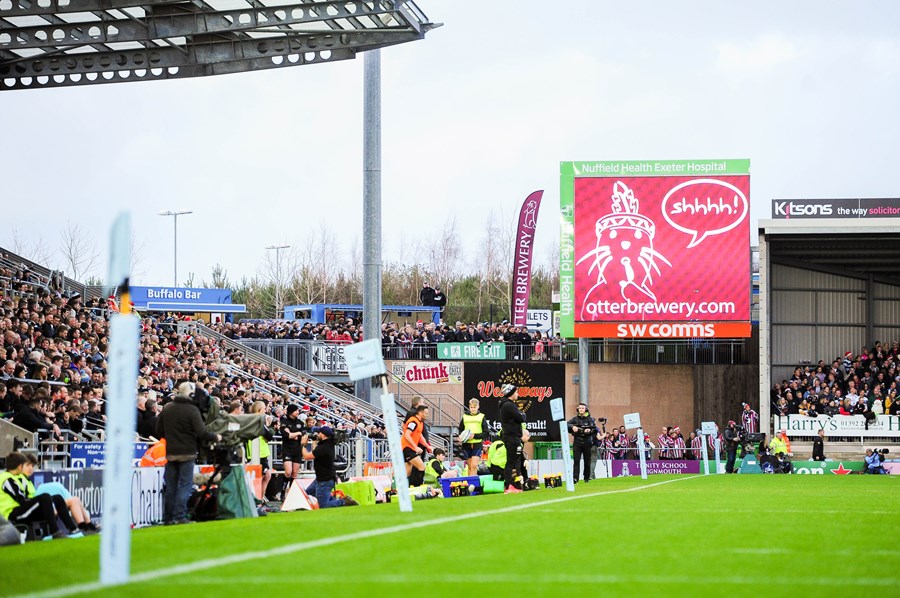 Our two big screens, plus 45 internal screens, offer the perfect location for existing and new sponsors to get their brand recognised by a wider audience on match-days.
With crowds of up to 12,800 at every match-day and with output matched by over 30 LED TVs within the stadium, our screens provide a unique opportunity to specifically target the faithful, both pitchside and within the various corporate suites.
The state-of-the-art, giant screens, which will be used for all of Exeter's home games in the Gallagher Premiership, Heineken Cup, Premiership Cup, Aviva A League and Friendly games, will not only provide an excellent advertising and promotional tool, but will be able to offer a host of possibilities for brands that want to communicate to captive and targeted audiences.
From as little as £1,000 for a full season, the screens allow companies and individuals to broadcast live on match-days with a variety of different options ranging from static surround advertisements to full screen, audio advertising slots.
Located high in the stands adjacent to the pitch, supporters will be able to refer to them regularly in live match play for time, replays and also in the case of pending try decisions. As well as this, team line-ups, half-time scores, pre-match warm-ups and action replays will also be broadcast throughout the whole match day.
To find out more call 01392 890879