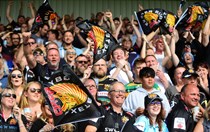 SUBMISSION LINKS FOR ALL GAMES ARE FOUND IN FREQUENTLY ASKED QUESTIONS BELOW
Rugby is returning, but not quite as we remember it!
Dates for the return of the Gallagher Premiership and Heineken Champions Cup competition have now been confirmed with the Premiership resuming on the weekend of August 14-16 and Europe set to return on the weekend of September 18-20.
Whilst this is clearly a positive step in the right direction in terms of rugby returning, as a business we still find ourselves in extremely challenging times, having to pay out overheads in excess of over one million pounds a month just to keep ourselves afloat.
Since March, Sandy Park has been forced to shut its doors to all of its business. This has meant we have undergone sizeable losses which, if it continues, we simply will not be able to sustain in the long-term.
Now more than ever, we need your unrivalled support!
In what are unprecedented times for all of us, the support we have received from you all has not only been humbling, but hugely welcomed by all of us here at Sandy Park.
Already many of you have contacted us, pledging your support and indicating that you are willing to donate your individual match ticket/tickets or the remainder of your seasonal 2019/20 package to helping the club move forward in the future.
That said, we do appreciate that not everyone is in a position to donate their funds, so Exeter Rugby Club are now offering THREE options to cover all of our remaining home fixtures.
OPTION ONE - DONATE TO THE CLUB
You can donate the value of your match ticket or seasonal package back to the club. Already many of you have indicated that you would like to take up this option – and your investment would not only provide a massive boost to us during these challenging times, but would be an unbelievably generous and thoughtful gesture.
For Season Ticket/Gold Card/Box Holders or 1905 Club members who choose to take up this option, you will be added the list of player sponsors for one of the first-team squad for the 2020/21 season.
The Player Sponsorship package will include the following:
Match-Day announcements on the PA system inside the stadium, including team announcements, score announcements and replacement announcements.
A logo/emblem alongside the player pictures in the main stairwell
A logo/emblem alongside the player in the official match-day programme
A story on the club website, giving the names of all those who are 'player sponsors'
A story in the first match-day programme of the 20/21 season, giving the names of all those who are 'player sponsors'
All names displayed on an exclusive 'player sponsor' display in a bar on match-days
OPTION TWO - CREDIT NOTE
A credit to your online account, which can be redeemed against future ticketing purchases.
OPTION THREE - REFUND
You will receive a full refund, paid to you automatically via your original payment method, paid by September 1.

These options will also apply to our match-day dining option in the County Suite, as well as match-day car parking.

If we do not receive any response by 5pm on Friday, July 24, this will result in the club retaining the monies paid for these tickets as a donation to the club on the basis that the consumer retains the option to request a credit up until 5pm on August 31.
As we will be fulfilling a large volume of requests, we politely ask that supporters use the form only. For more information, see our updated Frequently Asked Questions below.
In the event that restrictions are lifted and a limited amount of supporters are allowed back into Sandy Park before the end of the season, those Season Ticket/ Gold Card/Box Holders and 1905 Club members who have donated their remaining funds back to the club will be entered into a ballot to receive a complimentary ticket for the rescheduled fixture.
FREQUENTLY ASKED QUESTIONS
Q. How long do I have to let you know my chosen option?
A. You had until 5pm on Friday, July 24 to let us know your chosen option. Any ticket holders that have not submitted their choice by this time will automatically have their purchase donated to the Club. These supporters will have until August 31 to contact us to have a credit applied to their account
Q. How is the amount that is donated, credited, or refunded calculated?
A. If you are a season ticket holder, 1905 Club ticket holder, or Business Gold Card Holder, you will receive 25% of the cost of your purchased tickets. There are 4 postponed games, and 16 overall included in the season ticket. If you are a match ticket holder, you will receive the amount you paid for your tickets.

Q. I am a season ticket holder who would like to donate my credit to the Club. Can you tell me more about Player Sponsorship?
A. First of all, thank you for your support. It really does make an incredible difference at this very difficult time. All season ticket holders who donate their credit will be added to the list of season ticket holders who are 'Player Sponsors' for the 20/21 season. The chosen player, who will be decided by the Club depending on how much support there is for this option, there will be PA announcements on match-day that he is 'sponsored by the 2019/20 season ticket holders'. We will also have a story in our match-day programme and on our official website, with the names of all those who donated and have become 'Player Sponsors'. For the 20/21 season, there will be a display in one of the onsite bars, showing the names of all those that chose to donate their credit to the Club and help us at this unprecedented time.

Q. Can I change my mind, once I have submitted my choice?
A. If your circumstances change and you would like to change your option, please contact our Ticketing team by emailing ticketing@exeterchiefs.co.uk. Please note that any options can only be changed up until July 24, and after this time choices cannot be amended.

Q. My whole family has season tickets, can I just fill out one form?
A. Please fill out a season ticket holder questionnaire for each customer number (found on your season cards).

Q. I am a season ticket holder, 1905 Club or Gold Card holder who also purchased a ticket for the European Quarter-Final game, what do I do?
A. You need to fill in the questionnaire relating to your season package and then also complete the questionnaire for the Northampton Quarter-Final fixture above.

Q. I am a season ticket holder who purchased additional tickets, dining, or parking for one of the postponed Gallagher Premiership fixtures, what do I do?
A. You need to fill in the questionnaire above relating to your season ticket and then also complete the questionnaire for the relevant game that can be found above.

Q. What happens if crowds are allowed back in the stadium for postponed 2019/20 fixtures?
A. Should any of the postponed fixtures be able to be played in front of a crowd, season ticket holders that choose to donate to the Club and therefore become Player Sponsors for the 20/21 season will have a priority booking period. Those that donated will be entered into a ballot to receive a complimentary ticket for the rescheduled fixture.

Q. Can I spend my credit in the Trading Post?
A. Unfortunately not. Your credit will be available for you to spend on future ticketing purchases, including Sandy Park events.

Q. Can I split my credit, so that a % of it is donated to the Club?
A. Unfortunately not. Due to complexities with the refund/credit system, we are unable to split the percentages and have multiple payment methods.

Q. When can I expect to receive my refund, or credit on my account?
A. All refunds will be paid by 1st September 2020. Credits will also be loaded onto online accounts by this date.

Q. How long is my credit valid for?
A. Your credit will be stored on your account for use before June 30, 2021. After this time, any unused credit will be donated to the club.

Q. My card that I paid for the tickets using has expired. What do I do?
A. Our Ticketing team will contact you if there is an issuing processing your refund. Please do not contact them directly.

Q. I still have a question, what do I do?
A. Please email the Ticketing team on ticketing@exeterchiefs.co.uk Please do bear in mind that we are currently working with reduced staff levels, so it may take some time for you to receive a response. Please do not send your query a second time. If your question relates to corporate sponsorship or hospitality please contact lisa@sandypark.co.uk