Unlock the future of rugby with a Future Chiefs 23/24 Membership! Join the Chiefs family and enjoy exclusive perks, events and more by becoming a Future Chief today!
Are you ready to ignite your passion for rugby and get closer to the action than ever before?
Look no further than the all-new Future Chiefs Membership Package at Exeter Chiefs!
Our Future Chiefs package offers you exclusive access to the exhilarating world of professional rugby. Gain unrivalled access to behind-the-scenes action and experience match days like never before. What's more, you will join a thriving community of young rugby enthusiasts who share your passion. Forge lifelong friendships while growing your knowledge and love for the game.
Please note Future Chiefs Membership is available exclusively to 13 - 18 year olds.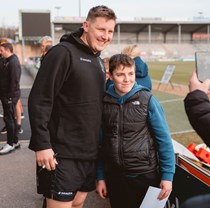 What does the package include?
2 Free Tickets to our Munster & Glasgow matches (1 x Adult 1 x Youth in South Stand Wing).

Sandy Park Stadium Tour

Watch a professional training session and meet the players

Exclusive Player Beanie Hat - these are not available to buy in our store!

A Manager Morning – discover what it's like to be the Manager of Exeter Chiefs with a unique 'day in the life' experience. This includes squad selection, an analysis session, a kicking session, a private tour of the gym & rehab centre - all with lunch provided.

Match day changing room set up – your chance to help with crucial behind the scenes preparations.

Access to the NEW 'Rise the Ranks' Scheme – your opportunity to earn even more unforgettable experiences as you complete challenges and 'Rise the Ranks'.

Future Chiefs Membership Card

10% off purchases in The Club Shop (instore only)
How does Rise the Ranks work?
Rise the Ranks is a NEW ranked loyalty system that allows you to earn extra exclusive rewards the more Exeter Chiefs games you attend. Once you become a Future Chief, you will be issued a Rise the Ranks Loyalty Card.
On the card you will see eight ranks, starting at Villager and rising all the way up to Paramount Chief. Each rank coincides with a different reward, rising in value as you go up each rank. At every home game you attend, you will need to take your Loyalty Card to the Club Shop where you will receive a stamp. Your goal is to rise up through the ranks, achieve higher Chiefs status and secure the best rewards!
See the graphic for a breakdown of the different ranks and rewards up for grabs.