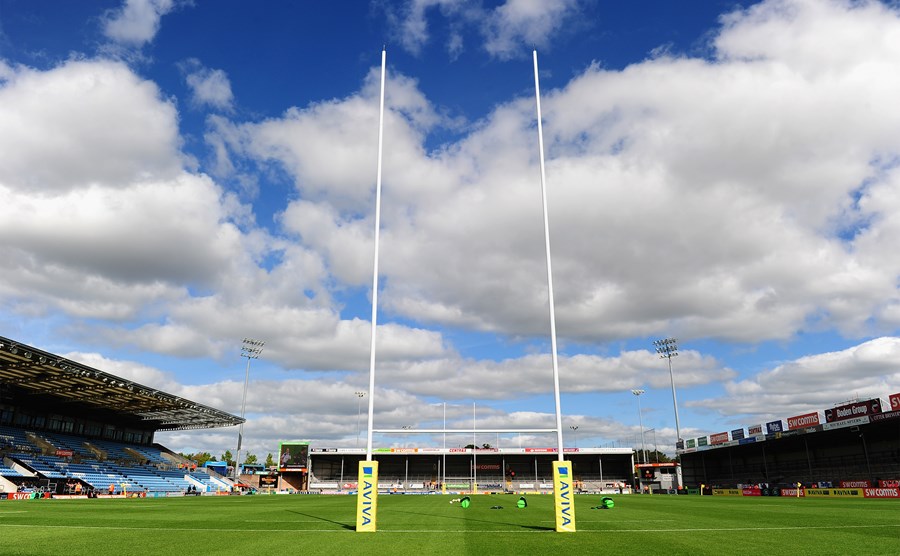 Exeter Rugby Club Terms & Conditions 2017/18
Age Qualifications
Under 2 years Qualify for "Babes in Arms"
2 years - 10 years Qualify for "Child"
11 years - 16 years Qualify for "Youth"
* Babes in Arms and Child Tickets are not sold in Standing Terraces of the Stadium
* All above must be accompanied by an adult.
* Qualifying date for above is 1st July 2017 to 30th June 2018
Student Concessions
Student ID must cover the entire season
Proof of Student ID must be provided, otherwise, a full price Adult price will be applied
Cancellation of Tickets
Cancellation of Season Tickets can be processed prior to the start of the season. Once the season has begun, all Season Tickets by any payment method are non-refundable.
Match tickets are strictly non-refundable and cannot be transferred to an alternative game.
Please note that fixture dates and times are subject to change - please be aware of this when booking tickets
Match Tickets
Tickets purchased online must be printed prior to arrival at the Stadium. Please ensure that your ticket is printed on A4 paper with the barcode clearly visible. Failure to print your e-ticket will result in a £5 admin fee for your ticket to be printed at the Ticket Office.
Monthly Payment Scheme
You may become a season ticket holder by paying for a season ticket at the price set out on our website in one full upfront payment. Alternatively you can pay monthly at the price set out on our website via a monthly payment plan. Please note that if you choose to become a monthly member you are agreeing that you will continue to pay for the ticket and be a season ticket holder for a minimum of twelve months.
Please be aware, the purchase of all season tickets will be subject to availability. If you are not already a season ticket holder, you should try to purchase your season ticket for the upcoming season prior to the end of the then current season. However, depending on availability, we may still have season tickets available for the upcoming season following the end of the current season.
Renewals and new purchases for 2018/19 season tickets will be available from Monday, 9th April. If you have not renewed by Wednesday 2nd May 2018, your season ticket will be available for others to purchase.
If tickets are purchased prior to Monday, 30th April, tickets will be paid for over 10 months, for people purchasing their tickets from 1st May the payment plan will be available over 9 months and so on.
The first instalment will be paid on purchase, and then the second taken on the 28th of the following month, and so on.
To use the instalment facility, you must be 18 years old or over, and hold a valid credit/debit card. Parents or guardians may make an application for a membership to be used by a person aged under 18.
If the season ticket holder:
a) Fails to comply with any of the terms of this agreement; or
b) Fails to pay Exeter Rugby Club Limited a monthly payment on or within 14 days of the due date for payment; or
c) Fails to maintain a Credit/Debit Card instalment plan then and in such event the membership holder agrees to allow the club to debit a credit / debit card as provided by the seasonal member when purchasing. Should this transaction be blocked then the membership holder agrees that the membership card will be de-activated and the membership holder will return without demand the membership card(s) to the Club forthwith. The Club reserves the right to take whatever legal actions are necessary to affect the return of any membership card(s) not returned as agreed
4.The season ticket holder will not without prior consent of the Club be entitled to use the season ticket card in the event of a default as described in clause 4 above.
5. If following an event of a default as described in clause 4 the season ticket holder wishes to continue for the remainder of the current season, the holder shall pay forthwith to the Club the total of the remaining monthly payments which are unpaid.
6. Following a default as described in clause 4 above, all instalment facilities will be withdrawn from the season ticket holder indefinitely.
7. This agreement is personal to the season ticket holder and is not assignable by the season ticket holder.
8. The club reserve the right to refuse members entry in to the monthly payment scheme.
Loyalty Scheme
Season Ticket Holders are entitled to receive a 5% discount on all bar purchases on match days by showing their season ticket when making their purchase
Season Ticket Holders are entitled to receive a 10% discount on all full price Exeter Chiefs merchandise on production of their season ticket
Season Ticket Holders will be given priority to book their own season ticket seat / terrace place on home progression games for a limited time which will be set and advised by Exeter Rugby Club.