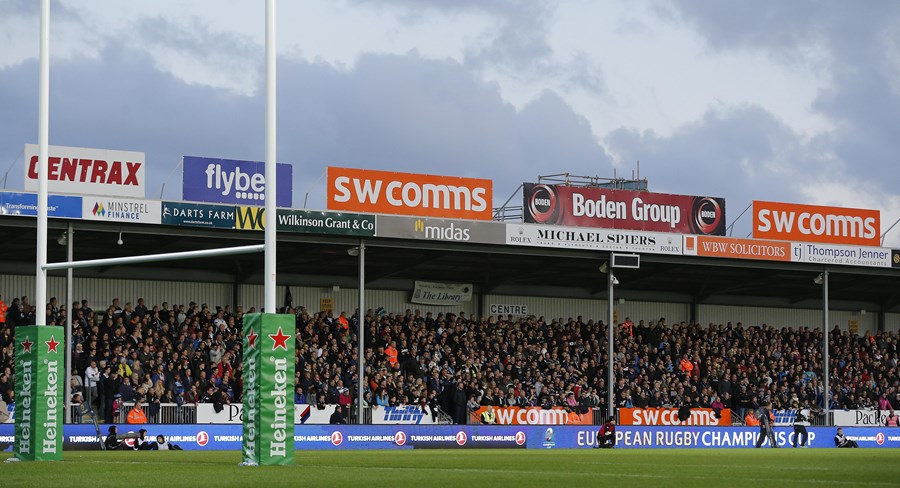 CAR PARK & TAXI DROP-OFF POINT
There is a drop off point at the stadium complex from the A379 for taxis and those being transported by friends and relatives before kick-off to matches. Supporters, however, are reminded that there is no vehicular access (apart from approved buses) onto the Sandy Park site for one hour following the final whistle.
Club officials would like to remind everyone that you must not drop off or pick up on the slip road leading into Sandy Park and in particular the main A379 road below as it is illegal and very dangerous.
David Lloyd Members are reminded by the Centre Management that they will be turned away by DL staff and Chiefs security if it is obvious that are using the centre car park just for rugby matches.
Members are welcome to enjoy food and drink prior to matches, but the Centre does not have the space for members wishing to utilise their membership to purely use the car park for rugby. The Centre's priority remains with those members using the DL Exeter club facilities before, during and after the match.
The Exeter to Exmouth railway line runs right past the stadium with a regular service on match days.
Using the bridge over the A379, Digby & Sowton Station is less than 10 minutes' walk from Sandy Park, while Newcourt Station is also an option for travelling fans and is also less than a 15 minute walk from the stadium.
Great Western Rail have set up a number of match-day special trains and anyone wishing to find out more should visit their website.
In addition you can use their text feature which shows up to date train departures from their stations. If you text DIG or EXD (for Digby and St Davids respectively) to 84950 you will get an answer showing the next five or six departures with their expected times.
Supporters can also call 08457 48 49 50 to get an update on train times.
There are three match-day specials which operate three hours before kick-off and for three hours after the final whistle
The No 77, which is run by Dartline Coaches, will have a new starting point at Victory Hall in Exminster (11.30am) before it continues on to Reddaway Drive, Chantry Meadow in Alphington, Cowick Lane, Cowick Street (First & Last), Fore Street (BHS), Topsham Road (County Hall) and onto Sandy Park. Buses run every 15 minutes.
The No 78, also run by Dartline coaches, starts at Exeter St Davids Station and picks up at the following destinations en route to Sandy Park: City Centre, Blackboy Road, Pinhoe Road, Sainsburys Pinhoe, Monkerton Link Road and Sowton Industrial Estate before arriving at Sandy Park.
The C bus, which is run by Stagecoach, starts at Exeter St Davids Station and picks up at Exeter Bus Station, Heavitree (Co-Op) to Sandy Park and runs up to every 15 minutes. Fares for this service are £2.50 (Single) and £3.50 (Return).
Stagecoach also offer an Exeter Dayrider ticket for only £3.90. This gives unlimited travel on all of their Exeter city buses, including the C bus service, so supporters can make the most of being in Exeter both before and after the match.
If you are travelling from outside of Exeter, Stagecoach operates regular services from a variety of locations – including Teignmouth, Dawlish, Exmouth, Topsham and Crediton – all of which terminate at the bus station where you can easily connect onto the C service. An Adult Explorer ticket will gives unlimited travel on all Stagecoach buses. Child, family and OAP Explorer tickets are also available.
For route maps and information on tickets and timetables, please visit the Stagecoach Bus Website
There is provision for 68 spectators in wheelchairs at set locations around the stadium.
Entry to seating in the West Grandstand must be made through the North turnstile to gain access to the upper concourse and the South Gate for seating around the pitch circulation areas.
Seating is readily available for any helpers to sit close by. Ready access is available to wheelchair accessible toilets in the West Grandstand and in rear of the East Terrance and behind the North Terrace by the Rubber Crumb.
Where spectators have other mobility impairments (e.g. frail/elderly, on crutches, etc) and require parking in the car park, they can inform the Club in advance and the Club will make every effort to reserve an appropriate parking place and Ground seating.
Stewards will take necessary steps to minimise interference in viewing lines for disabled or mobility impaired spectators.
If a visually or hearing impaired spectator requires the assistance of a guide dog, the dog will be allowed access to the Ground free of charge – other dogs are permitted into the Ground only at the discretion of club officials depending on the dog's nature and match/crowd circumstances.
If required, a suitable seating or terrace location will be provided where the dog can comfortably rest. Additionally a bowl of water may be provided upon request.
Guide dogs may also be admitted into the Clubhouse. Where a disabled person's condition requires attendance of a personal assistant, the Club will admit the personal assistant free of charge.
All disabled tickets must be purchased by emailing ticketing@exeterchiefs.co.uk
Although there is no accommodation available at Sandy Park we do work closely with the local tourism board and also Devon Hotels, who can offer supporters a variety of different accommodation to stay in during their time here in the Westcountry.
For more details, simply visit Devon Hotels website or Visit Exeter website.
Those wishing to travel to Sandy Park by foot or bicycle can access the stadium via the bridge over the A379 and via the rear of the complex from Old Rydon Lane. There are a number of bicycle racks on site to park bikes.
ARRIVE EARLY, LEAVE LATER
In the transport strategy agreed with the local authorities it is essential that there is a even spread of supporters arriving and leaving the stadium.
The Chiefs have arranged a range of entertainment to encourage supporters to arrive early and also leave later. Details will often be made available in advance of a fixture via the club's e-zine, local press, social media and official club website.
The Chiefs have committed to providing their supporters with a complete match-day experience starting when the gates open three hours before kick-off and then run right through into the early evening with the match itself being the highlight of the day.
The Chiefs have invested heavily in state of the art technology to add to the match-day experience, including the purchase of two giant screens inside the stadium.
In addition each internal bar area will be provided with large TV screens to view previous Chiefs matches, BT Sport or Sky Sports matches and internationals.
Please note that Sandy Park is a smoke-free zone stadium, including in all bars, but there is an area designated for smokers outside the South East Turnstiles.
Plastic glasses are also only permitted in the outside areas. Exeter Chiefs would like to actively support green initiatives and would therefore encourage all supporters to use public transport or if supporters do need to drive to encourage them to car share.