Exeter Season Tickets launched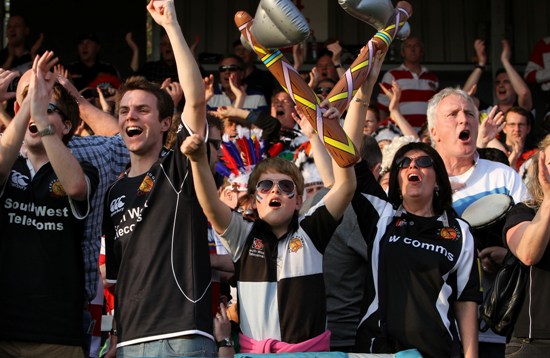 Home to top flight rugby right here in the Westcountry, Exeter Chiefs have today announced their season ticket prices for the 2013/14 season.
Take your place inside Sandy Park as Devon's finest gear themselves up for another year of Aviva Premiership, European and LV= Cup action against some of the biggest names in club rugby.
Due to redevelopment work on Sandy Park being put on hold for 12 months, the club can push forward with their season ticket launch, which not only guarantees you access to 11 Aviva Premiership fixtures, three European and two LV= Cup home dates, but all friendly, A League and Academy matches, as well as priority booking for progression matches in all of the above competitions and discounts on match-day bar beverages and purchases within the club's official Trading Post.
Having kept season ticket prices the same for the past two seasons, Exeter Rugby Club have looked closely into their pricing structure for next season's campaign with slender increases on certain areas of the stadium due to the rise in inflation and ever-increasing playing, club and stadium costs, whilst at the same time looking to keep the club as competitive as possible amongst its rival both in this country and abroad.
Existing season tickets are guaranteed first refusal on their current spot up until the close of business of April 1, whilst new season ticket applications will be taken from April 3. Also a new plan implemented by the club this year for all season ticket holders applications (old and new) means that payment can now be spread over a four-month period.
The new Season Ticket Standing Order would commence on May 15 and be followed by further payments over the month of June, July and August, helping to spread the cost for you the supporter across a longer time period.
Those supporters who wish to obtain their new Season Ticket and pay for it either by cash, cheque, debit card or credit card can still do so with payment not being taken until after June 1.
Although Season Ticket and Match-Day Ticket prices have risen for next season in certain sections of Sandy Park, club officials have kept prices the same for some areas of the stadium. That means for supporters who sit on either wing of the South West Comms Stand or in either bays A & D of the North Terrace, prices for tickets are untouched from that of the current campaign.
Tickets for children largely remain the same, although there is a slender 50p increase for those who stand in the East Terrace, North West and South West Terraces and blocks B&C of the North Terrace.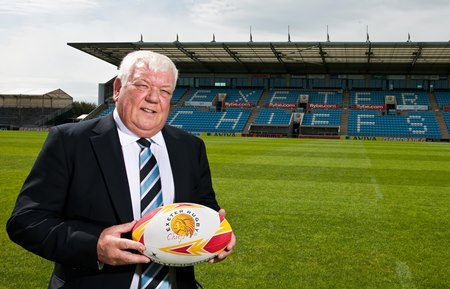 The advantages of having a Chiefs season ticket, compared to that of buying tickets on a match-by-match basis, mean that adult supporters will get a discount cost of between 16% and 25% depending on what area of the ground you occupy; whilst the newly-created Family Ticket for one adult and two children can save supporters a figure of between of 26% and 33% again depending on where they are located.
Commenting on the launch of the Season Ticket prices, Exeter Rugby Club Chairman and Chief Executive, Tony Rowe OBE
(pictured)
, said: "As a club we have again looked closely into our pricing structure for next season. The decision to increase some of our admission prices for the first time in two years was not an easy one, but in the current climate we felt it was necessary not only to keep our business on an even keel, but at the same time ensure we are able to support Rob Baxter in putting out the best possible squad next season.
"The benefits, we believe, of having a season ticket for the Chiefs are there for all to see. Not only will supporters save themselves a significant amount of money when you compare it to buying tickets on a match-by-match basis, but there are also a number of other key benefits aimed at rewarding our loyal fan-base.
"Also our new payment plan will ensure supporters can spread the cost of their new season ticket over a much longer period rather than be hit with one mass amount; whilst the introduction of our new Family Ticket for an adult and two children, we feel, will ensure that not only can we attract even more families to Sandy Park, but we can offer them an affordable package to do so."