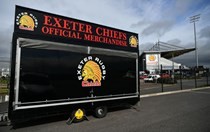 By Mark Stevens
23/3/20
Exeter Rugby Club is prioritising the health and safety of its supporters and staff and will temporarily close its official Trading Post store and mobile outlets at Sandy Park.
The club understands some supporters may be disappointed; however, given the government's latest advice on social distancing, we feel it is our duty to take decisive action to protect our supporters and staff.
Supporters wishing to purchase items from the Trading Post can still do so as the club's online shop - www.exeterchiefs.co.uk/shop/all - will remain open.
In light of current developments, the club have previously taken the decision to remove all Exeter Rugby Club fixtures from sale until the end of April.
Exeter Rugby Club chairman and chief executive, Tony Rowe OBE, said: "Everyone associated with the Rugby Club and Sandy Park are committed to the utmost safety of all of our supporters, customers, players and our staff. As announced previously, all of our fixtures have now been postponed for the next five weeks in accordance with the relevant information given out by the Government and Premiership Rugby.
"These are unprecedented times for everyone and our priority has to be to not only protect public health, but do our utmost to prevent the spread of the virus. As has been our stance throughout, we will continue to monitor closely the ever-changing situation with the Government, Public Health England and all of the other relevant authorities on this matter."