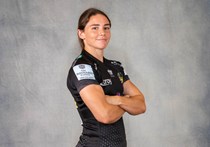 An outside centre who we have also seen at flanker this season, Felicity Powdrell came to the game a little later than most. She discovered rugby in Wairoa when she was 18 and fell in love with the physicality of the game. She also liked the whānau (family) presence, and coming from a large family, she was drawn to the team atmosphere.
Powdrell is quite the journey-woman with stints at clubs in New Zealand, Japan and Australia, including Hawkes Bay Tui, Ponsonby Fillies, North Harbour, Tokyo Phoenix, East Brisbane Tigers and rugby league side Cronulla Sharks.
She has played a lot of sevens with her highlights including the Las Vegas and Fiji tournaments, as well as winning the Kinsale Sevens with a touring American team.