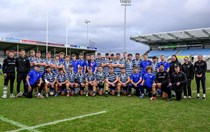 The partnership between Exeter Chiefs and Exeter College provides aspiring rugby players the chance to nurture not only their rugby talent, but also receive first-class education and training with the Gallagher Premiership Academy club coaching and teaching staff.
Exeter College is a large, thriving and growing tertiary college which places teaching, learning and student success as their top priority. They enjoy an excellent regional reputation.
Exeter College is an award-winning, world class college and are Devon's only Ofsted Outstanding further education college. Their vision is to shape the future by delivering excellence to realise the ambitions of their learners, city and region.
The 2019 2020 year was a strong year for their academic results. Exeter College had record progression to high tariff universities.
Exeter College were also named best in the South West for employer satisfaction in Apprenticeships. As an organisation, nationally they are in the Sunday Times Top 100 Not for Profit Employer list.
Students can choose the academic route they desire and the rugby programme is designed to complement those choices.
The programme caters for players from 16-18 and 18-20 years. The rugby training links in around the students chosen academic path. Students have full access to full time coaches and strength & conditioning staff.
This provides students the opportunities to cover the tactical, technical and team aspects of rugby along with full conditioning, nutritional programmes and detailed team and individual analysis delivery. The full-time coaching staff also provide individual skills and mentoring to suit the student commitments.
The College play in the RFU AASE league and also complete in the AoC Sport competitions providing opportunities for players at all levels.
Exeter College Rugby Programme
In 2020 the Rugby Academy is set to welcome a fresh coaching set-up with Keith Brooking joining as Exeter College Rugby Programme Manager and Ruairi Cushion appointed as First Team Head Coach.
The addition of Keith to this role further strengthens the already outstanding quality of coaches we have throughout the programme which is overseen by Exeter Chiefs Academy Manager Rob Gibson.
Coaches Information
Keith Brooking
Keith is a former Chiefs player who provides a wealth of experience especially in the forwards. Keith also runs the Developing Player Programme (DPP). Keith played nearly 200 games for the Chiefs. Keith's knowledge of the arts of front row are second to none.
Marc Dibble
Marc oversees the highly successful Apprenticeship Programme and also organises the U18 programmes throughout the Academy which provides the perfect link between DPP, College and Club.
Richard Phillips
Richard has moved to Exeter following a stint working with the Chiefs at their base at Truro College. An experienced coach, who has previous coaching experience with Sale Sharks, he takes on the role of ASE Backs coach.
Richard Middleton
Richard heads up the Strength & Conditioning along with providing support for injured players and nutritional and supplement guidance.
Harry Wright
Harry supports Rich Middleton in Strength & Conditioning and specialises in return to play from injury phases. Harry is also head of S&C for the DPP programme run from the college base. Harry is an ex-college student and has recently finished his degree at Cardiff and is now forging a career in rehabilitation to compliment his S&C work.
Lee Western
Lee takes on the role of Head of the DPP Devon programme, helping to nurture the future talent from across the county.
College Staff
The College is also fortunate to have teachers who are allocated hours to not only support the programme, but further enhance it:
Jon Hill - Head of Rugby & Apprentice Tutor
Jon Fabian - Coach and DiSE Tutor
Ali Hill - Coach and DiSE & Apprentice Support
All these coaches have a fantastic pedigree and are still involved at various clubs in the National leagues. The line-up of coaches and experience they bring to the programme ensure the highest quality of education is matched in its Rugby Development.
For more information on the programme and application requirements please contact: chriswall@exe-coll.ac.uk