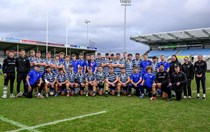 Exeter College and Exeter Chiefs
The partnership between Exeter Chiefs and Exeter College provides aspiring rugby players the chance to nurture not only their rugby talent, but also receive first-class education and training with the Gallagher Premiership Academy coaching staff. With 26 alumni students currently on the Chiefs playing roster (14 Men and 12 Women), our success speaks for itself.
Exeter College is a large, thriving tertiary college which places teaching, learning and student success as their top priority and have a sector leading reputation.
An award-winning, world class college, and from its recent Ofsted inspection, Devon's only 'Outstanding' further education college under the new robust framework. Their vision is to shape the future by delivering excellence to realise the ambitions of their learners, city and region.
The 2022/23 academic year was a strong year for results. A Level students achieved an excellent 99.6% pass rate, 2.4% above the national average, with AS Level students achieving an outstanding 90.7% pass rate, 6.7% above the national average. Vocational, technical and applied students achieved a 98% pass rate across second year applied and technical programmes and a 96% pass rate across all Level 3 vocational, technical and applied courses.
Exeter College is also named as best in the South West for employer satisfaction in Apprenticeships. As an organisation, nationally they are in the Sunday Times Top 100 Not for Profit Employer list.
Students can choose from a range of academic courses and have the rugby programme imbedded in their timetable to complement those choices. The programme caters for players from 16-18 and new for 2023-24 is our Foundation Degree in Coaching and Fitness (for 18+ years) certificated by the University of Exeter. This is a two-year programme with a progression option into Year Two on the Exercise and Sports Science Course at the University. Studying on this course will allow individuals the opportunity to study at the College and to train and compete in BUCS competitions for the University. This is an invaluable opportunity for those aspiring players looking for a HE qualification whilst exploring playing opportunities with Exeter Chiefs and the University of Exeter.
Our DiSE (Diploma in Sporting Excellence) provides additional opportunities for aspiring players selected by Exeter Chiefs in their transition from secondary education. This additional qualification in learners' timetables, covers the tactical, technical and team aspects of rugby along with full conditioning, nutritional programmes and detailed team and individual analysis delivery. Once completed it is worth up to 64 UCAS points in addition to student's main course choices.
Exeter College Rugby Programme
The College play in the RFU ACE league and compete in the AoC Sport competitions providing opportunities for players at all levels.
Each academic year our Rugby Academy has a cohort of players encompassing first and second year students, allowing us to field four teams on a Wednesday afternoon. We play in a variety of competitions run by the RFU and AoC Sport, with the ECRFU being its constituent body. Players can aspire to play in the ACE league and ACE Development League, with school and colleges partnered with premiership teams across the country.
The programme is blessed to have coaches from the club and the college combining to provide an outstanding standard of delivery which allows a professional approach underpinned by an educational environment.
Coaches Information
Rob Gibson (Exeter Chiefs Academy Manager)
Keith Brooking (Exeter Chiefs Academy Coach)
Marc Dibble (Exeter Chiefs U18 programme Manager)
Richard Middleton (Exeter Chiefs Strength & Conditioning Coach)
Lee Western (Exeter Chiefs DPP Devon Manager & Academy Coach Development Officer)
Abigail Birbeck - (Exeter Chiefs Academy Physiotherapist)
Joe Forey (Exeter Chiefs Academy Analyst)
College Staff
The College is also fortunate to have teachers who are allocated hours to not only support the programme, but further enhance it:
Jon Hill - Head of Rugby & Apprentice Tutor
Jon Fabian - Coach and DiSE Tutor
Ali Hill - Coach and DiSE & Apprentice Support
Harry Wright – Coach, Sports Academy S&C
All these coaches have a fantastic pedigree and are still involved at various clubs in the National leagues. The line-up of coaches and experience they bring to the programme ensure the highest quality of education is matched in its Rugby Development.
For more information on the programme and application requirements please contact: chriswall@exe-coll.ac.uk