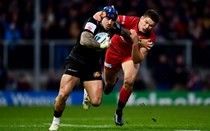 Code of Conduct
Our Codes of Conduct require the highest standards of conduct from everyone involved to ensure that their behaviour and actions meet the values and standards expected at all times. Everyone must conduct themselves in an honest, fair, impartial and transparent manner. Our Codes of Conduct (respect & hard work) are applicable to all aspects of the sport and are driven by Exeter Chiefs values.
We expect our players to be a good person both when directly representing Exeter Chiefs but also when representing Exeter Chiefs away from Sandy Park (club and school).
I will respect:
All individuals regardless of gender, race, colour, disability, sexuality, age, occupation, religion or political opinion
Comments about a fellow participant, coach, official, volunteer or member of Exeter Chiefs staff that will bring the sport or those associated with delivering the sport into disrepute, including making comments on social media platforms
Rugby is based on teamwork, therefore I will:
Be on time, dressed appropriately and ready to give my full attention to the role I am carrying out within Exeter Chiefs Academy
Recognise that individuals bring different qualities and attributes
To be a decent person with high standards at ALL times
Meet academic requirements: these include meeting minimum predicted grades, acceptable attendance levels
Exeter Chiefs Pathway
The Exeter Chiefs pathway has been simplified in order for players, parents, coaches and stakeholders to understand and gauge potential entry points into the pathway.
The pathway provides opportunities for players within the region to enter the pathway at any point throughout their development. The entry point will vary for all young aspiring rugby players due to the maturation point being so varied with young males.
Players within the pathway will be challenged at different points in order to produce position and Premiership ready players.
The pathway is never a straightforward route; the journey will have bumps along the way. The bumps along the way also show resilience levels within players.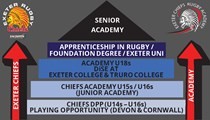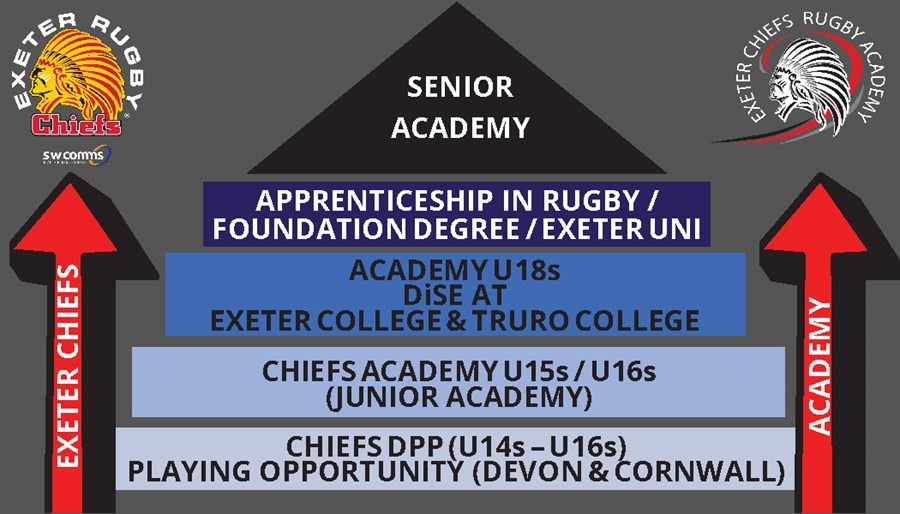 Selection Criteria
C - Contact Skills
H - Highlights
I - Intelligence
E - Effort
F - Fight
S - Shape