Past Players' Association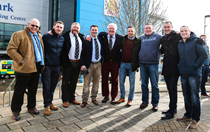 The Exeter Chiefs Past Players' Association was created to bring together former players who had represented the club across the years.
The Association has brought together former players from many eras, from those who have finished playing in the last ten years to players who represented Exeter Rugby Club in the days of the old County Ground.
Each year a specific match-day at Sandy Park is designed to our Past Players' - but plans are being put into place to add additional days where the association can meet up and reminisce.
The Association - which is mainly overseen by Keiron Northcott and Ian Pugsley - is free to join and is open to men and women who have played for the club.
Its primary aims are to promote friendship, support and charitable work, including fundraising, by bringing together players from different generations and different eras.
It will also offer an opportunity to add to the archives of Exeter Rugby Club by giving former players a chance to share their stories of life as a Chief.
"We want our former players, whoever wants to get involved, to feel as though they belong to something special," said Keiron. "When your career has been in a team and you have been surrounded by your friends and the fans who support you week in week out and that stops; it can be very tough.
"We want those who join us to take what they want from it, whether that is a social connection or help with something more specific. We pride ourselves in being an approachable, family club and hopefully that will be something that appeals to former players, especially those who have lost contact with the club over the years."
Earlier this season, both Keiron and Ian instigated a drive to boost the club's Past Players' numbers.
"Whilst we already have a database of former players, they are predominantly from two eras," said Keiron. "It's about time we expanding that list. Every year it is fantastic to see the former players all assemble to share stories, have a bite to eat and watch the current crop in action.
"However, we do feel there are a good numbers of players who don't necessarily know about the game or other things happening at the club. By getting their details into our directory, we want them to know what's happening in terms of the Past Players' group.
"Our intention is to spread the word with not only players from the pre-professionals days, but also the more recent former professionals, some of which are spread all over the world. We want to make this a very active group with communications flowing both ways. I for one would be interested in what a lot of these former players are doing now and I am sure our supporters would be as well."
If you are a former players and want your details included, please forward them initially to keironnorthcott@exeterchiefs.co.uk or Ian Pugsley thepugsleys5@gmail.com