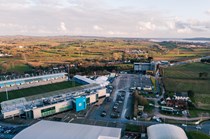 Conference & Events Administrator – Exeter Rugby Club & Sandy Park Conference & Banqueting Centre
A rare and exciting opportunity to join the team in the office at Sandy Park Stadium, working with Sandy Park Conference & Events Team. This role will require you to support the team with administrative duties that are required for the smooth operation of the Conference & Events Facilities at Sandy Park.
Working Hours: Monday to Friday, 09:00 – 17:30
(Overtime will be payable for working at events and optional work on match days)
Salary: £20,000-£22,000 per annum (depending on age and experience)
Main Duties and Responsibilities:
Provide varied administration support to the Sandy Park Conference & Events team
Handle all phone calls and emails in a professional manner, offering a good customer service experience to our customers
Support Sandy Park with gathering all information for events to run seamlessly, and the booking System is updated accordingly
Respond to and coordinate all internal meeting requests
Assist with event preparations to ensure they all run smoothly, including table plans, place cards, posters/flyers and menu collations
Assist with the running of events, where required
Carry out relevant market research and update Sandy Park subscriptions to enable the growth of Sandy Park conference & events
Provide daily lunchtime and cover for reception
This job description may not contain all the duties and responsibilities that may arise in this role and you may need to undertake other duties as instructed
Adhere to company policies and procedures at all times reporting any issues to the Managing Director immediately
Person Specific Requirements:
Be IT literate in Excel, Word & Outlook
Be able to multi task, prioritise, whilst ensuring accuracy
Be professional and well presented
Be able to communicate well with people at all levels
Be able to work un supervised and manage their time efficiently
Be confident, patient, friendly, flexible, sociable, reliable & self - motivated
Be accurate and efficient with your work
Have excellent customer service skills
If this sounds like something you could be interested in, please send your CV and a covering letter to vacancies@sandypark.co.uk.
Deadline: Monday 11th July at 12 noon
Interviews: Wednesday 13th July & Thursday 14th July
Please send a covering letter with your application and include your availability for interview on 13th & 14th July.
Should you be successful and be invited to a second interview these will be held on Tuesday 19th July from 13.00pm.
Due to the high volume of applicants that we receive at Sandy Park, unfortunately we will only be able to get back to those successful for interview.
Players Chef
A unique opportunity has arisen to join the kitchen team at Sandy Park home of Exeter Chiefs.
Reporting into the Head Players Chef and Sandy Park Head chef you will help with the day to day provision of nutritional food for both the men's and women's playing sides.
Food plays a big part in the performance of the team, you will have the opportunity to work with the players and coaches to develop bespoke menu's and food options for the team's
You will also have the opportunity to work with the Sandy Park kitchen team to cater for conference's Banqueting and of course match day food outlets and hospitality.
If you would like the opportunity to join one of Europe's elite Rugby teams and have the skills required mixed with understanding of food and sports nutrition then we would love to hear from you.
Full time - £22-24K per annum
Please send your cv to vacancies@sandy park.co.uk