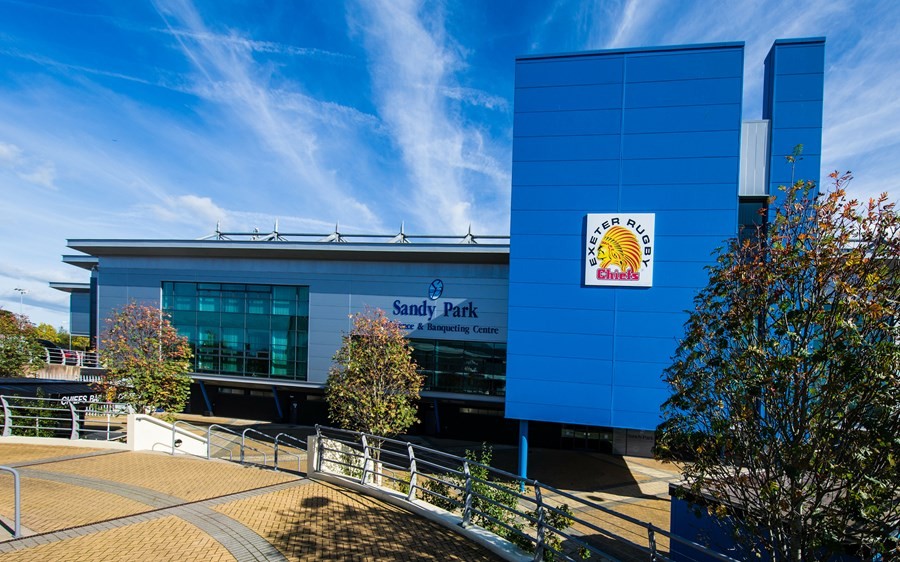 Seasonal Staff - Trading Post
In the build-up to Christmas, the Exeter Chiefs' Trading Post are looking for a seasonal member of staff to join us temporarily here at Sandy Park and at the mobile shop in Exeter City Centre.
This is a temporary position, ideally starting on Monday 4th November and lasting until Christmas.
You will help create a perfect shopping experience for the customer: always ready to help, always willing to go the extra mile and all with a friendly smile. Other duties will include stock replenishment, use of tills, and fulfilling of website orders.
General Responsibilities: We're all about the customer, so the most important thing you'll do is simple - putting the customer at the forefront of everything you do. Other duties will include stock
Hours: 40 hours a week across 5 days
Salary: From £6.15 per hour (depending on age)
If you think you have the qualities, experience and passion that we are looking for and are ready for a new challenge, please send your CV to vacancies@exeterchiefs.co.uk
Sport Science Research Technician
Salary: £20,000-£25,000 per annum dependent on experience
Location:Sandy Park, Exeter
Contract Type: Full-Time, Fixed-Term
Closing Date: Friday, October 18
Background:
An exciting opportunity has arisen at Exeter Chiefs Rugby Club for a Sport Science Research Technician
with experience collecting and processing biomechanical and isokinetic data, to work alongside our experienced Medical and S&C departments.
Exeter Chiefs compete within in the Gallagher Premiership, highly prestigious European Champions Cup and Premiership Rugby Cup competition. Formed in 1871 Exeter Chiefs Rugby Club are the West Country's Premier Sporting Club, steeped in long-standing tradition and prides itself on delivering professional standards, both on and off the field. We are looking to recruit an experienced, enthusiastic, hardworking and dynamic Sport Science Research Technician.

Job Description:
The role of Sports Science Research Technician will involve laboratory and field based testing. Utilizing biomechanical gait analysis systems, force plates, an isokinetic dynamometer, and other physical and performance measures. The role will require data collection and the production of usable outcome measures to assist decision-making in an elite rugby environment. Effective communication skills are essential to disseminate data, produce reports and inform the whole performance team.

Essential requirements:
BSc involving biomechanics
Experience in conducting gait analysis and isokinetic data collection
Experience with producing data analysis reports

Highly desirable:
MSc with a sports biomechanical focus
Experience with Visual 3D
Experience of working with professional athletes
Experience with large data sets
Previous lab technician experience

Key Responsibilities:
Collection of biomechanical data utilising motion capture systems
Collection of baseline, injured and return from injury assessments using isokinetic dynamometry
Perform laboratory based data capture testing.
Produce outcome measures utilising software for use by performance team.
Progress and develop existing screening protocol
Maintain an organised database of all data and outcome measures
Liaising with external contractors and suppliers
Maintain, stock and operate standard laboratory equipment
Safe management of laboratory process in accordance Health and safety requirements
Abide by medical confidentiality at all times
To carry out any other duties that may be required relating to the effective running of the Exeter Chiefs rugby department
Organising and scheduling of pre-season testing at the University of Exeter

Working Hours:
The employee's normal working hours will be variable. This is due to the changing nature of a sporting setting. Weeks will vary depending on scheduled fixtures. This will also include working during bank holidays and national holidays.

How to apply:
Please email your CV and a covering letter to scvacancies@exeterchiefs.co.uk
Interviews will take place on Tuesday, November 5. Only successful applicants will be contacted by email.
Chef de Partie (Full time – Permanent)
Hours: 48 hour per week, 5 days out of 7, actual days will vary depending on the needs of the business and will include weekends and bank holidays.
Salary: £22k - £23k (dependent on experience)
General Responsibilities – Assisting the Head Chef and Sous Chefs with the preparation and delivery of all catering requirements at Sandy Park Stadium, including all conferences, banqueting and match days. Taking overall responsibility of a section within the main kitchen and on function service points as required.
Main Duties and Responsibilities
Ensure all food at Sandy Park is prepared, cooked and presented to the highest of standards.
Oversee various sections within the main kitchen and function service points as required.
Allocate tasks to subordinate kitchen staff and check they have been carried out effectively.
Assist with training of all kitchen staff accordingly, ensuring high standards are achieved at all times.
Have good budgetary awareness and work to the needs of the business.
Ensuring health and safety regulations are strictly observed.
Monitoring the quality of the products and service provided.
Ensure tight stock control, to achieve the expected GP%.
Full compliance with all fire, health and safety and employment regulations.
Promote and maintain a high standard of food safety throughout the kitchen.
Maintain a high standard of customer service at all times.
Person Specification;
A minimum of 3 years' experience in a Commis Chef role or at least one year in a CDP role.
Be professional and well presented.
Be able to manage staff well, keep motivated and communicate well with people at all levels.
Hard-working, with an ability to work under pressure and be able to work unsupervised in any environment.
Have Basic Food Hygiene and a minimum of NVQ level 2.
If you think you have the qualities, experience and passion that we are looking for and are ready for a new challenge, please send your CV to vacancies@exeterchiefs.co.uk
Match-Day Bar & Waiting Staff
Type of work: Casual Bar or Waiting Staff on a match day and occasional functions
Hours per Week: Hours on a match-day vary between four and 12 hours (Must be able to commit to all home games – Games can fall on either a Saturday or a Sunday and there usually two games per month from September 2019 - June 2020)
Pay is dependent on age and experience and ranges from £5.60 per hour to £8.21 per hour, plus 12.07% holiday pay.
How to Apply: Please email vacancies@exeterchiefs.co.uk for an application form.