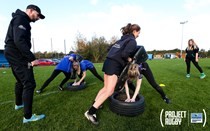 Our Plan
To engage and develop new audiences through rugby and stimulate a lifelong interest in the game
Project Rugby is run by Premiership Rugby in collaboration with Gallagher and England Rugby. Project Rugby is designed to increase participation in the game by working with people from traditionally underrepresented groups:
Black Asian & Minority Ethnic People
People from Lower Socio-Economic backgrounds (top 30% IMD)
Disabled People
With an end goal of transitioning these groups into local clubs to help increase participation within the Community game.
The programme – which is run in partnership with Gallagher and the RFU – aims to engage with thousands of participants per year (aged 14+ and 16+ for disabled people) and will be delivered by community staff from Premiership Rugby's 14 shareholder clubs at over 200 locations across England, providing accessible opportunities for people to participate in the game at a time and place that can be easily accessed by target audiences.
Outcomes
Engage thousands of participants per year
Transition participants from Project Rugby activity into regular rugby participation
Improving individual well-being and perceptions of self
Reduce social isolation and improving levels of social connectedness
Challenge existing perceptions of the game, positioning rugby as a sport for anyone regardless of background, ability or gender






Contact
The programme is aimed at Secondary Schools, SEN Schools and Disability Organisations/ Charities and runs for a total of 12 weeks. If you are interested in having this programme at your school or organisation please contact:
richardbright@exeterchiefs.co.uk