Perimeter Board Advertising
Match days at Sandy Park are recognised around the sporting world for their popularity, with passionate fans and world class rugby, they have played host to some of the most high-profile Rugby events in both the domestic and European game.
With supporters travelling from across the continent for matches, and a Television audience in the millions, this is a unique opportunity to expose your brand to a connected audience both locally and nationally.
Charlie Dunn, Corporate Sales Manager, says: "Perimeter advertising presents an opportunity for companies to give their brand exposure, not only to the 15,000 fans visiting every home game, but also to the tens of thousands who use Sandy Park conference centre every year and to the millions watching nationally through TV coverage on TNT Sport, PRTV, Channel 5, BBC and ITV.
"Our range of offerings can accommodate most budgets. Please reach out if you would like to understand more. "
Sandy Park has seen extensive redevelopment over the previous 10 years and with the construction of the new East Stand, the stadium is quickly becoming one of the premier sporting arenas in the UK.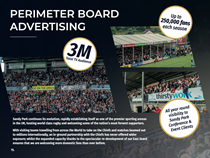 If you'd like to find out more about Perimeter Boards and other advertising opportunities, please contact our Business Development Executive using rhydianthomas@exeterchiefs.co.uk.