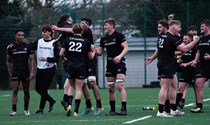 Mission
Exeter Chiefs Rugby Academy is committed to producing players who compete for trophies at Premiership, European & International levels.
Through a combination of early identification, integrated systems that accommodate entry at appropriate levels, the programme will develop People, Players, Leaders and Club Culture.
What is the role and importance of your academy?
It's one of the questions I get asked the most when people want to understand the structure and culture at Exeter Chiefs.
Really, there is no one simple answer but in my view there are some key areas.
Firstly, from a strictly business perspective developing our own players is important for several reasons. We invest a lot of money and time into our academy so getting a return on this investment is important and bringing through our own players shows that there is a real value in working hard to provide a quality pathway into the Premiership.
Alongside this Premiership regulations make it financially beneficial to have a squad made up largely from English Qualified Players (EQP's) and our homegrown players, that develop into senior players, are also viewed positively under the salary cap regulations.
Although the financial and squad management issue is an important role of the academy it is, in my opinion, not as important as the emotional part our academy plays in the success of the club. To me, seeing young men who have lived locally and grown up with Exeter Chiefs as their Premiership Club, training and playing with our various academy teams and striving to be the best they can be is really what our academy brings to the club.
These young men have an emotional bound to the club that cannot be underestimated, having a dream plays a huge part in the career of a professional sportsman, and our academy system does everything it can to make the dream a possibility for anyone who is prepared to work hard enough.
All of our academy coaches and support staff understand the qualities we want our players to possess and because of the time that they spend with our young players developing these qualities it means that when they enter our senior programme they are not only good players, they are also good men.
I always like to think that a really good rugby club is there first and foremost to provide an opportunity for people to play rugby to the best of their abilities and then to provide a meeting place and entertainment for the people who choose to come to support them.
Our academy is the start of the opportunity process for local players, and how good is it when their families, friends and the people from the area they represent can be there to support them.
Rob Baxter
Exeter Chiefs Director of Rugby
***********************************************************************************************************************************************
Exeter Chiefs Academy is continually striving to improve its value and delivery with robust support from the CEO, Board and Director of Rugby. The increased involvement into structures, player development has enabled further ongoing strategy to produce a high calibre player and person.
The pathway between Devon & Cornwall and its established partners has been designed to provide a continuous curriculum and personal development programme for our homegrown players, on and off the field.
Rob Gibson
Exeter Chiefs Academy Manager
ROB GIBSON - Academy Manager
ROBIN COWLING - Assistant Academy Manager
RICKY PELLOW - Assistant Academy Manager
MARC DIBBLE - Under-18s Programme Manager
HAYDN THOMAS - Senior Academy Coach
MATT BIRBECK - Academy Coach/DPP Cornwall Manager
KEITH BROOKING - Academy Coach
MAREK CHURCHER - Academy Coach
LEE WESTERN - DPP Devon Manager & Academy Coach Development Officer
LES BARROW - Lead Strength & Conditioning Coach
TBC - Strength & Conditioning Coach
TOM RAWLINGS - Strength & Conditioning Coach
JACK PERRY - Exeter University Strength & Condition/Transition Coach
JAMIE NEMMER-THAYER - University of Exeter S&C Coach
MATT TRIBBLE - Lead Academy Analyst
SHANE O'HANRAHAN - Lead Academy Physio
DAVY MORGAN - Physio/Strength & Conditioning Coach
ABI BIRBECK - Physio
RICHARD HODGES - Academy Education Advisor/University of Exeter Coach
ZOE WILLMOTT - Academy Administrator
BRITISH & IRISH LIONS
Luke Cowan-Dickie
Jack Nowell
Sam Simmonds
ENGLAND INTERNATIONALS
Luke Cowan-Dickie
Jack Maunder
Ben Moon
Jack Nowell
Sam Simmonds
Henry Slade
ENGLAND SAXONS
Luke Cowan-Dickie
Dave Ewers
Sam Hill
Henry Slade
ENGLAND UNDER-20s
Jack Arnott
Richard Capstick
Josh Caulfield
Joel Conlon
Luke Cowan-Dickie
Greg Fisilau
Sam Hill
Jack Innard
Billy Keast
James Kenny
Jack Maunder
Sam Maunder
Jack Nowell
Alfie Petch
Joe Simmonds
Sam Skinner
Henry Slade
Jack Stanley
Marcus Street
Stuart Townsend
Rusiate Tuima
Charlie Wright
ENGLAND UNDER-18s
Joe Bailey
Richard Capstick
Josh Caulfield
Luke Cowan-Dickie
Sam Hill
Jack Maunder
Sam Maunder
Jack Nowell
Alfie Petch
Henry Slade
Jack Stanley
Marcus Street
Charlie Wright
ENGLAND STUDENTS
Paul Davis
Ed Holmes
Pete Laverick
Tom Lawday
WALES INTERNATIONALS
Dafydd Jenkins
Christ Tshiunza
WALES UNDER-20s
Ollie Burrows
Dafydd Jenkins
Iwan Jenkins
Dan John
Christ Tshiunza
SCOTLAND INTERNATIONALS
Sam Skinner
SCOTLAND UNDER-20s
Ollie Leatherbarrow