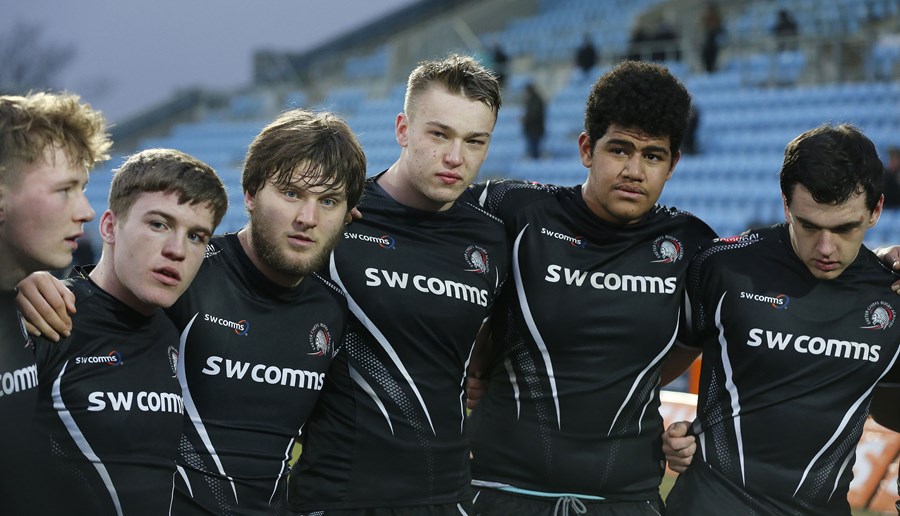 Here at Exeter Rugby Club we are rightfully proud of our Academy Structure which, since its inception, has unearthed a wealth of Westcountry riches when it comes to young, rugby talent.
The Exeter Chiefs Rugby Club has built solid foundations and success by creating a hard-working club first ethos.
Exeter Chiefs Academy follows a similar philosophy and is focused on producing players from within its region to compete at the highest level. None of this can be close to be achieved without the personnel.
Academy Management and Staff are experienced and strive to maintain the very highest of standards. This fosters the familiar, yet challenging environment required to promote players into the Senior Academy and Beyond. Focus on the players throughout the
system and the Academy bases and satellites ensure we are providing very solid foundations.
The identification and foundation work at Junior DPP and PDG levels is fundamental to setting the building blocks in place for the future with players having opportunities to play at the highest level appropriate and available to them.
Motivated and intelligent staff with growing expertise in their particular field ensure the Academy not only continues to produce a high calibre person and player but also provides the environment for future innovation, research and methods that will keep the academy motivated and moving forward and in line with the demands of modern day professional sport at international levels.
What we have produced is down to a lot of hard work from a lot of people along the way, but it's also down to the buy-in we have received from both Tony Rowe (Chief Executive) and Rob Baxter (Director of Rugby). Without them supporting us in the way they have, we wouldn't be where we are today.
Exeter Chiefs have a pathway in place that covers players from the 2 counties within our catchment area.
Truro and Exeter Colleges continue to have strong links with the U16 to U18 age groups. Post-College, the University adds a further three years at least onto player development, while other options and innovative programs like the Apprenticeship Scheme can add additional valuable time with player contact.
With the initial identification of players starting as early as 13 years old, Exeter Rugby Club have developed a structure that is ensuring that the stream of homegrown players continues.
Young players (aged between 13-16) initially come through the Player Development Group programme (EPDG) and the Developing Players Programme (DPP), before those identified are steered towards continuing their development at one of the club's associated Colleges.
Pathway
The Exeter Chiefs Academy Pathway deals with many players within its boundaries. A single clear pathway
towards the professional and international game allows for efficient development of those players. Not everyone will achieve the dreams they set but all players will be taken care of and the region will be better off for the involvement within the pathway.
Throughout all the different levels and programmes all
aspects of player and personal development are catered for. Psychology, Nutrition, Strength and Conditioning programmes & support, all complement the player
programmes designed to cover the tactical, technical and analytical aspects of various development. All the above aspects are tiered to suit the appropriate age groups and levels of development.
Mission
Exeter Chiefs England Rugby Academy is committed to producing players of the future through early identification, development and dedicating time to the "Best Players" leading to full time premiership and national honours. By developing the person and leaders the "Player" will follow. Along with maintaining a balanced approach to achieving ambitions within the game, players will also be supported in avenues of life outside the game.
Developing Players Programme (DPP)
Ages 13-16
Devon & Cornwall Regional Satellite Centres
To provide a first opportunity to identify those players with greatest potential to enter the pathway towards the professional game and England.
Selection by Academy Staff and regional Coaches.
Nominations to: Marc Dibble
Criteria:
Natural Ability - Playing for Fun
Game related skills; Increasing pressure, Improvement in Technical Skills
Tactical Awareness
Physical Awareness & development
Marc Dibble - Manager
John Roberts - Education Advisor
Up to 60 hours per annum
Selection Criteria
Contact skills
Highlights – Point of difference – Multiple actions
Intelligence - Coachability – Self awareness
Effort
Fight (Is the player willing to work to Achieve)
Shape (Physical attributes – technical shape – The safe way is the right way)
Player Developing Group (PDG)
Ages 13-16
Based from Sandy Park, Exeter College,
Truro College, 2 sessions per week
Developing understanding in all areas and introduce concepts and rate of progression is clear and monitored.
Rugby Target areas: Technical, Tactical, Physical (movement patterns- Screening), Constant performances, transferring practice skills into games
Psychcology introduction, Goal setting, Communication, self-awareness
Nutritional and well-being aspects explored
Balance and Proprioception
Kinaesthetic Skills – Rugby Aware
It's not the strongest of the species that survive, nor the most intelligent, but the ones most responsive to the environment.
Marc Dibble - Manager
John Roberts - Education Advisor
Players can progress from DPP into PDG for further specialist coaching selection by Academy Staff. Player Movement Between U16 DPP & PDG can be fluid to suit the players needs and rate of development.
Minimum 60 hours per annum
Player Developing Group (PDG)
Under 18
College Based
Treat Special, Provide Special, EXPECT SPECIAL
Rugby Target Areas:
Mental
Skills
Nutrition/supplements
Physical
Increase condition levels
Leadership
Develop independent thinkers
Lifestyle
Personality Traits Formed: Values & Attitudes? Attentional Style? Ambition? Anxiety – Coping Skills
Confirmed position
Decision making more constant
Responsible for actions
Rob Gibson – Manager
Robin Cowling - Cornwall Manager
Marc Dibble – Devon Manager
5 days per week based around academic studies. 12-15 Hours per week
Senior Academy Players
18-24
No Limits Environment where Excellence is Expected
All Areas covered – Target specific weaknesses and needs through individual performance review process
Players in this category are adult representative players
These players have the capacity to go beyond the rehearsed repertoires, strategies and tactical solutions and innovate when the situation demands. Highly competitive and driven they should be excellent in their positional and functional roles as well as have the capacity to fulfil multiple roles in general movement play
Players must have the ability to deal with the pressure of public expectation, interest and intrusion together with self-management and self-development
Academy Progression Pre Full-Time Contracts Options
University: Haydn Thomas
FE: Rob Gibson
Rugby Apprenticeships: Selection - Rob Gibson
Manager - Ruairi Cushion
Work related opportunities - Haydn Thomas - Rob Gibson
BRITISH & IRISH LIONS
Jack Nowell
ENGLAND INTERNATIONALS
Luke Cowan-Dickie
Jack Maunder
Ben Moon
Jack Nowell
Sam Simmonds
Henry Slade
ENGLAND SAXONS
Luke Cowan-Dickie
Dave Ewers
Sam Hill
Henry Slade
ENGLAND UNDER-20s
Jack Arnott
Josh Caulfield
Joel Conlon
Luke Cowan-Dickie
Sam Hill
Jack Innard
Billy Keast
Jack Maunder
Jack Nowell
Joe Simmonds
Sam Skinner
Henry Slade
Jack Stanley
Marcus Street
Stuart Townsend
Charlie Wright
ENGLAND UNDER-18s
Richard Capstick
Josh Caulfield
Luke Cowan-Dickie
Sam Hill
Jack Maunder
Sam Maunder
Jack Nowell
Alfie Petch
Henry Slade
Jack Stanley
Marcus Street
Charlie Wright
ENGLAND STUDENTS
Paul Davis
Ed Holmes
Pete Laverick
Tom Lawday