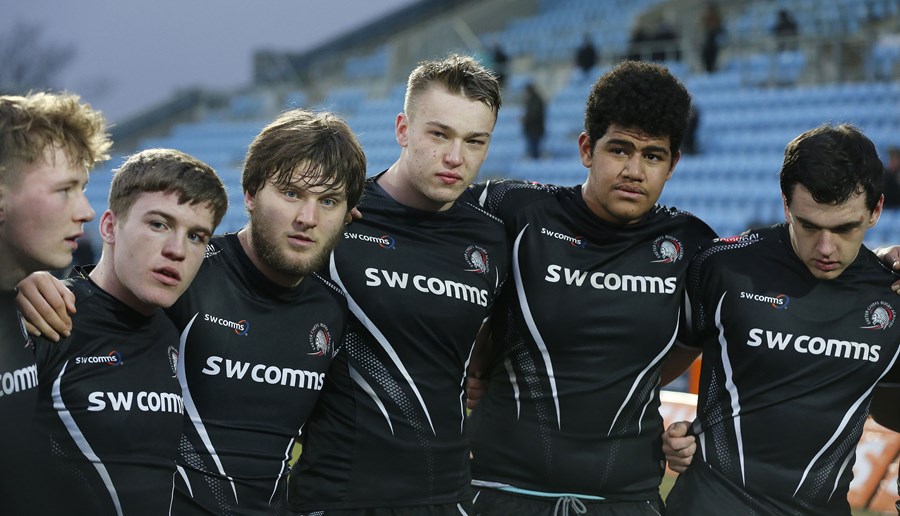 Here at Exeter Rugby Club we are rightfully proud of our Academy Structure which, since its inception, has unearthed a wealth of Westcountry riches when its comes to young, rugby talent.
Recognised nationally for its success and overseen by our experienced Academy manager, Robin Cowling, the former Gloucester, Leicester and England international, the club has a strong and proud tradition of producing homegrown players, who have made the step from regional classrooms to that of the international rugby stage.
With the initial identification of players starting as early as 13-years-old, Exeter Rugby Club have developed a structure that is ensuring that the stream of homegrown players not only continues well into the future, but delivers on it's purpose of producing not only Premiership players, but future England internationals.
Young players (aged between 13-16) initially come through the Elite Player Development Group programme (EDPG) and the Developing Players Programme (DPP), before those identified are steered towards continuing their development at one of the club's associated Colleges.
Over the years, a plethora of local talent has been unearthed through our Academy centres located in Exeter and Truro, but also in Ivybridge on the outskirts of Plymouth. Featuring in the RFU Achieving Academic and Sporting Excellence (AASE) competition, it provides the perfect stepping stone for such individuals to not only showcase their talents, but to make their first significant moves towards a professional career with the Chiefs.
As Cowling explains: "Initially, it's like a big pyramid. We start with a huge base of players at the age of 13 and the key is to try and keep that as big as possible, for as long as possible. Because of the nature of our sport with things such as physical shape and physical toughness, sometimes you don't know the true outcomes of those sorts of things until much later.
"Therefore, the later we can make decisions on people, the better it is for us. We have the Colleges who look after them from 16 to 18, but it can still be too early in some cases. If we can keep that pyramid bigger - and for longer - the better it becomes.
"Post-College, the University adds a further three years at least onto the decision-making, but for the less academic, we have now added the Apprenticeship Scheme which again can add a bit of additional time and income when it comes to us making a decision on a young player."
The success stories of how the Exeter Academy works are there for all to see and with the full weight of support behind them from the club's Board of Directors and Exeter Chiefs Director of Rugby, Rob Baxter, it's easy to see why it's a structure that continues to grow extensively year on year.
Indeed, the underlying philosophy is based on graduating forms on the seven pillars highlighted below, recognising that talent is a multi-dimensional concept and individuals should be identified or selected on any one component.
Technical
Tactical
Physical
Nutritional
Mental
Leadership
Lifestyle
BRITISH & IRISH LIONS
Jack Nowell
ENGLAND INTERNATIONALS
Luke Cowan-Dickie
Jack Maunder
Jack Nowell
Sam Simmonds
Henry Slade
ENGLAND SAXONS
Luke Cowan-Dickie
Dave Ewers
Sam Hill
Henry Slade
ENGLAND UNDER-20s
Jack Arnott
Josh Caulfield
Joel Conlon
Luke Cowan-Dickie
Sam Hill
Jack Innard
Billy Keast
Jack Maunder
Jack Nowell
Joe Simmonds
Sam Skinner
Henry Slade
Jack Stanley
Marcus Street
Stuart Townsend
Charlie Wright
ENGLAND UNDER-18s
Richard Capstick
Josh Caulfield
Luke Cowan-Dickie
Sam Hill
Jack Maunder
Jack Nowell
Henry Slade
Jack Stanley
Marcus Street
Charlie Wright
ENGLAND STUDENTS
Paul Davis
Ed Holmes
Pete Laverick
Tom Lawday