Maddy's Mark Think Like A Chief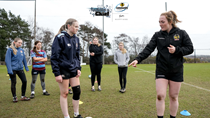 The Community Chiefs are pleased to be offering our 'Think Like A Chief' programme for the first time. This programme which is funded by Maddy's Mark is designed to give more girls an opportunity to play rugby, as well as talking around the mental health topic throughout.
Maddy's Mark was established to remember Maddy Lawrence, and promote positive mental health and wellbeing in young women, through the sport of rugby.
Maddy sadly passed away in March 2022, aged just 20, after suffering from a rugby injury, whilst playing for UWE, her university rugby team. Despite a courageous fight in hospital, Maddy tragically died of sepsis, two weeks after her injury. She was bright, loving and sporty, described by friends as a shining light in their lives.
In this extraordinarily difficult time, Maddy's Mark take comfort in all the good that Maddy has done in her short life and the many people who were touched by her kindness, generosity, and love. We wish to help continue Maddy's legacy by forging ahead with the charity, which supports the cause she held closest to her heart, young women's mental health.
We are trying to build young women's confidence, self-image and self-belief through the values of the rugby community. By focusing on the standards of teamwork, mutual support and fellowship we hope to help young women harness their own boldness and resilience.
Why? Because not all battles are fought on the pitch.
As part of this programme, it is also great to have Give A Ruck on board. Give A Ruck was developed to help everyone in rugby, from players and coaches to club members and volunteers to become more comfortable in talking about their mental health. Give A Ruck aims to help give these people the necessary tools raise awareness, signpost to relevant services and to inspire others to talk about their mental health.
Seeing the importance in a programme like Maddy's Mark, it is great to also have Give A Ruck helping us with the mental health content in the programme. This means all the girls we deliver to have the best advice regarding mental health as well as the opportunity to consistently take part in rugby over a six week period.
Contact
The programme is aimed at Secondary Schools and runs for a total of 12 weeks. If you are interested in having this programme at your school please contact:
richardbright@exeterchiefs.co.uk