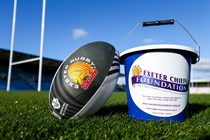 Our Mission
The Exeter Chiefs Foundation is the charity of the Exeter Chiefs. We are a fund-raising organisation committed to improving the prosperity of the communities we serve by making donations that make people's lives better.
The official club charity of the Exeter Chiefs, the Exeter Chiefs Foundation was set up in 2011 to help promote the local community and the vision of people who live and work there.
In February 2017, the Exeter Chiefs Foundation celebrated reaching the fantastic milestone of £1m raised for charities and organisations across Exeter and the wider area. More recently, it was announced that the £350,000 received by the Club following Saracens' breach of the salary cap regulations would be donated to the Foundation.
All of the money raised by the Foundation is donated to worthy causes in and around Exeter with a focus on supporting 'tangible' investments.Since its inception the Exeter Chiefs Foundation has helped to directly fund over 120 different charities and organisations in a series of wide-ranging projects and schemes.
Headed up by chairman Tony Rowe OBE and fellow trustees Marc Astley, David Bird, Keiron Northcott, Alan Quantick and celebrity chef Michael Caines MBE, they have help to oversee the fundraising exploits of countless people locally.
As well as deciding on how the charity's money is shared, the trustees organise a number of fund-raising events each year including the prestigious Devon Sports Awards, as well as pre-season and end of season gala dinners.
All charities in the greater Exeter area are able to apply for funds, either from an annual designated pot of money, or one-off donations. The amounts awarded by the trustees range from a few hundred pounds, to a record £50,000 which was matched by the Exeter Summer Property Ball Committee and presented to Hospiscare to pay for the vital refurbishment of a 12-bed ward at Searle House in Exeter.
Tony Rowe OBE, Hon LLd
Michael Caines MBE
Marc Astley
David Bird
Keiron Northcott
Alan Quantick
To get in touch with the Exeter Chiefs Foundation, contact our Charity Secretary, Aimee Arscott