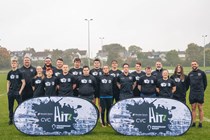 The award-winning HITZ programme at Topsham RFC
HITZ is Premiership Rugby's award-winning education and employability programme which works with over 2,000 16-18 year-olds and 18-24 year olds (EHCP Dependent) across England every year.
HITZ uses rugby's core values of teamwork, respect, enjoyment, discipline and sportsmanship to get young people not in education, training or employment (NEET) back into education, training, apprenticeships and/or employment, and is delivered nationally by England's 12 professional rugby clubs.
Our core offer, the HITZ Learning Academy, offers a relaxed environment targeted at 16-18 year-olds and 18-24 year olds (EHCP Dependent) to improve their functional maths and English, develop valuable life skills and gain important qualifications alongside experience from work placements and employer-led sessions.
The programme also offers essential enrichment and sporting activities which supports the development of the whole individual through not only improving their mental but physical wellbeing as well.
Participants in the HITZ programme regularly report an increase in resilience, self-confidence and aspiration as a result of their involvement, and over 70% go on to achieve a positive progression into further education, training or employment.
HITZ is funded nationally by the Wooden Spoon charity and locally the Exeter Chiefs Foundation kindly donates money each season to allow the programme to run at Topsham RFC. Which offers fantastic facilities and is an easily accessible location.
Education - YMCA
The HITZ Learning Academy offers a NCFE Level 1 Employability Course:
Delivered by our education providers, YMCA, an approved NCFE centre. Students will study a variety of nationally-recognised qualifications within sport, coaching and fitness and where required, students can study Maths and English GCSE or Functional Skills.
YMCA is one of the UK's leading independent providers of education through sport.
Government approved post-16 private education provider
Experts in the field of sport and education delivery with over 15 years' experience
Nationally recognised for high quality advice and guidance
Programmes delivered in real sports environments
Proven progression route
Activity - Exeter Chiefs
Exeter Rugby HITZ Programme also offers a Sports Leadership Award and the chance to:
Play a range of sports while having fun and making new friends
Get fit and learn about health and nutrition
Improve communication skills and confidence
Receive support to increase literacy and numeracy skills
Learn work preparation skills & experience to improve employability
AGES:
16 TO 18
18 TO 24 EHCP DEPENDENT
ENRICHMENT ACTIVITIES: Team building, Paddle Boarding, Paint Balling, Exploring, Cooking and Much More
WORK EXPERIENCE OPPORTUNITIES: Offering Interview Skills, CV Writing and Work Experience Placements
RECRUITMENT: We are recruiting for September
START DATE: September for long course and January for short course
EXIT ROUTES: Level 3 programmes, apprenticeship programmes and full time or part time work
If you are interested in our Hitz programme or would like to enquire about joining please Click Here:
Or contact anyone below: