Baxter's joy at Chiefs win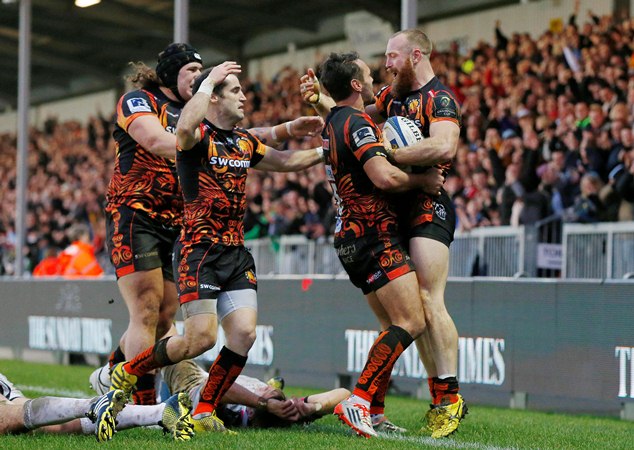 Pictures: Exeter Rugby Club/Pinnacle Photo Agency
By Mark Stevens
Exeter Chiefs Rob Baxter spoke of his delight as he watched his side return to winning ways in the Aviva Premiership with a powerful 47-16 demolition of visiting London Welsh at Sandy Park.
Tries from Jack Yeandle, Tom Hayes, Damian Welch, Sireli Naqelevuki and Jack Nowell
(pictured)
paved the way for Exeter's seventh league win of the season, whilst fly-half Gareth Steenson kicked a further 22 points with a faultless kicking display.
Gavin Henson landed three penalties, as well as converting Phil MacKenzie's second half try for the visitors, but that was their scant reward in a game which the Devon club dominated.
Winless in their previous five Premiership fixtures, the victory was not only much-needed for the Chiefs, but also enabled them to close back in on the division's top six and re-ignite their push for a spot in next season's Heineken Cup.
"It was a very important five points for us," said Baxter "And it freshens the season up for us a bit and keeps things exciting for us. We're a point behind Bath now, there's still plenty of Premiership games left, but it's nice now to be thinking where we can go if we have some good performances rather than worrying what we might get caught up in. That was starting to play on a few peoples' minds, probably wrongly, because I still think there are a lot of points on the table for us.
"We were nervy for the first quarter of the game, but I thought once we got control of the breakdown and we could create some good phase play, we looked a good side and we were more than a handful. In the end London Welsh could not hold on to us."
That said, Baxter insisted the Chiefs would take this latest win in context and report back in on Monday ready to prepare for a testing away-day trip to defending champions Harlequins this Saturday.
"The important thing is not to get carried away with ourselves now," he added. "We have been quite critical of ourselves recently and people have been talking about whether we are on a bit of a slide. Obviously today is a massive relief to us and it's five very valuable points at this time of the year. However, it shows what we have been saying, which is we have being playing OK, and sometimes you do things that force results and sometimes you get it wrong.
"Today we got more things right, but as I said to the guys let's not think everything is perfect. We keep saying we won't get on an emotional rollercoaster when we lose, but when we win lets also not think everything is great. For us there are still lots to work on in our game. There were elements that were better today, defensively we were sharper; our set-piece was better and we took a lot of our opportunities. Those things we have been working on, but it doesn't mean everything is solved.
"I've just said, let's enjoy tonight and this victory, but let's also make sure we come back in on Monday and start working hard again."
In a tight opening quarter to the game, one which was largely penalty ridden by both teams, it was the Chiefs who finally broke free when hooker Yeandle, on his first-ever Premiership start, that started the try-scoring spree.
Yeandle is one of a handful of local lads Baxter has within his first team ranks at Sandy Park and he says that link, together with his mix of stars from further afield, is crucial to the club's long-term development.
"I have always said we want to develop our blend we have here," said the Exeter coach. "The Exeter blend is going to be very important and it needs good backing and a good spine to it from local players. At the same time we need to make sure the guys we bring in compliment the guys we have here. I think we've done that very well over the last few years, but it's something we always look at.
"Today you look at Sireli running around, he's a guy who we brought in from Super Rugby and is a Fijian international, running in tries out there. Then at the other end of the scale we've got Jack Nowell, who has come up through the Academy and he too is scoring tries.  Jack Yeandle is another locally based guy who went away to UWIC, he then spent a year in the Championship with Doncaster, but now he's with us at his local club and scoring a try in the Premiership, so that's fantastic.
"For me that's the blend you want to have within your squad. As I've said before, sometimes you have to be patient and let your squad blend together, so that's where we are. There are no quick fixes to things like that, you just have to let it mature."
Meanwhile, Welsh head coach Lyn Jones admitted the Exiles produced their worst display of the season in Saturday's encounter.
He said: "I feel like apologising to the crowd. They came along for a contest and we didn't compete. I don't know if Exeter were that good or we were that bad, probably a mixture of both.
"You can't take anything away from Exeter they scored some very good tries, but it was probably our worst performance of the season. Everything we did turned to dirt. We scored one try and I felt we had enough field position to score more points, but we weren't good enough. Exeter's defence was tight and well disciplined, unlike ours.
"We have to go away and take a look at what we're doing to make sure that what we are doing is the right thing."