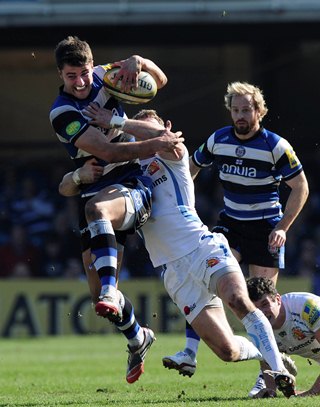 Pictures: Exeter Rugby Club/Pinnacle Photo Agency
By Mark Stevens & Ben Wiltshire
Exeter Chiefs speedster Matt Jess believes if his side go out and attack the last four games of the season, then the Devon club will have every chance of securing a top six spot in the Aviva Premiership.
Just 24 hours before he and his team-mates are due to travel to rivals Worcester Warriors, the 28-year-old has urged the importance that the Chiefs set out their stall from minute one at Sixways.
Jess was involved in last season's dramatic victory for the Chiefs at the same venue, when late tries from Phil Dollman and Sireli Naqelevuki in the final two minutes not only sealed a memorable victory, but also a spot amongst Europe's elite for the first time.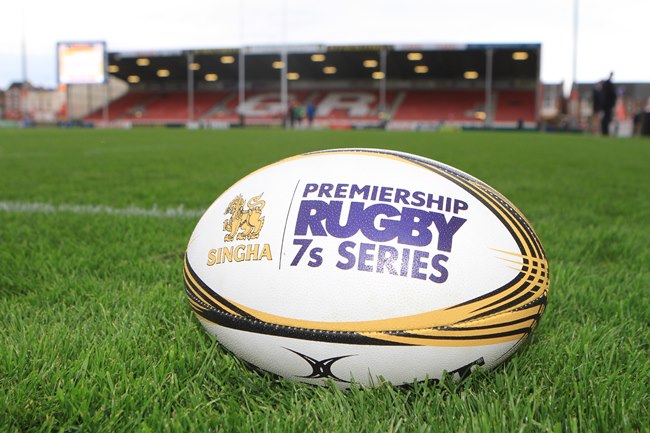 Although Heineken Cup spots are unlikely to be confirmed yet for a few weeks, Jess expects this latest trip up the M5 to be equally as tough against a Warriors side that have lost just three times on home soil in the Premiership this season.
In the build-up to tomorrow's clash, Jess says there has been plenty of talk about last season's match and the importance of starting strongly against Richard Hill's men.
"I think we learned a lot from that game," said Jess, who tomorrow will make his 100th league appearance for the Chiefs.
"We started well, but then we let them back into the game and we were chasing it towards the end of the game. Crucially, we dug deep towards the end and we managed to snatch a win, which was great and it was a defining moment for us.
"I think as a group this year we have started games a lot better, but we know the threat that Worcester will pose to us. We're going to go up to Sixways and we'll just bring our game to them and see what happens. We've got four games of the season to go, but right now all we are looking at is this weekend's game."
Jess – who made his debut for the club in 2008 – has said that the Chiefs must learn from the narrow defeats they have suffered this season, including their most recent reverse at home to Leicester Tigers a week ago.
"We're at the back end of the season and we have four games left, so we know exactly what we have to do," added Jess.
"We need to go out and attack each game like we have done. I think our performances in the last couple of weeks, especially against the big teams like Leicester and Harlequins, have been fantastic.
"Obviously that away win at Harlequins our performance was there – and so was the performance, both as a team and individually, for large parts of the Leicester game.  However, in those close games we need to learn how to come through and get the win. It's a learning curve for us, but we'll learn through it this week and we will go up to Worcester and attack it as best as we can."
Jess has also praised the way the Devon club can adapt in games when things are against them and believes there is no concern that his side didn't score a try against the Tigers at the weekend.
He continued: "The weather hasn't been good for us, it's cold, but the pitch is starting to firm up so hopefully in these last four games we can try and put on a bit of a show and hammer in the tries.
"The conditions have been difficult, obviously you want to have the ball in hand and running 60 metres with every carry, but with the English weather it's not ideal so we have to adapt to it. I don't think there wasn't any concern that we didn't score a try against Leicester, the conditions we played in were wet weather rugby, so there were lots of kicks and lots of territory so it's completely different to what you find on a hot sunny day.
"We adapt with our kicking game, our back three with Aly (Hepher), he's very good at giving us that kicking game and those kicking options. It's great to have that game plan where we can play in the wet as well as in the dry. At the weekend we took those options, we took territory from them and put them under huge amounts of pressure and we can certainly do that in the wet conditions."
With Jess set to become the latest addition to Exeter's 100 Club, the Coventry-born back has expressed his excitement of the possibility of being included in a select group of men.
"It's a special honour and it's a thing when you look at that board, you kind of say to yourself that I want to see my name up there, so it's a massive moment if I do get to feature. 
"Certainly I feel more established as a Premiership player because you kind of know what's coming. With the teams you play, you know exactly what you're up against and there are no easy games.
"I'm still enjoying and relishing being a Premiership player and to get 100 appearances playing for a Premiership club and playing for Exeter is a big thing for me and I will take that with me forever.
"But as a team it will be a great thing if we can go up there this weekend; put a performance in and get the four or five points, which would be amazing. I suppose to cap the 100th appearance off with a win would be a special moment for me."