A week to remember for Chief Sheehan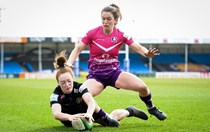 By Harry Scott-Munro
30/3/21
Winger Laura Sheehan admitted that she was "buzzing" after marking her first start in Exeter Chiefs colours with a try, as her side held their nerve to secure a 17-12 victory over Loughborough Lightning in the Allianz Premier 15s.
An early penalty from Gabby Cantorna edged the Chiefs ahead, before scores from Rachel Johnson and Sheehan helped open up a 17-0 advantage for the Chiefs at half-time.
Speaking after the final whistle, a delighted Sheehan said: "It was fantastic, a really intense match and a tough slog, but it was a great win in the end."
Sheehan broke her deadlock for the Chiefs right on the stroke of half-time, latching onto a kick through from fly-half Patricia Garcia, who praised the awareness of her team-mate to spot the space in-behind the Loughborough defence.
"Pat is fantastic, she's such a lively player," said Sheehan. "You've got to be alive to what she's going to do. Luckily, I just judged it right and got on the end of it."
Her maiden score capped a near-perfect week for Sheehan, who was also named in the Ireland squad for the upcoming Six Nations Championship, where she will be hoping to add to her four international caps.
"It's been a busy week," she added. "It was lovely to be named in the (Ireland) squad and I was delighted to get a start today. It was unreal (today). It was a bit hectic running around the park and trying to get on the ball, but it was just brilliant to get a full 70."
Fellow play-off contenders Loughborough came back at the Chiefs in the second half with scores from Megan Davey and Helena Rowland, but the Chiefs defence held firm against wave after wave of attack.
Sheehan credited "the culture" of the side for their gutsy second-half defensive display and praised the spirit of her team-mates in standing firm against a quality opposition.
"They're a quality side and we knew they were going to come back at us and really test us," she continued. "In the end, the defence from the girls was outstanding. There's such characters in this team and we never lie down and we're always fighting back."
The league now takes a break for several weeks with the Six Nations getting underway this Saturday. For the Chiefs, they will be back in action against Sale Sharks on April 17 and Sheehan can still see work-ons from their latest performance to take into that match.
"We could've done better today. We're pleased to get the win but there's lots to work on in the next couple of weeks. A couple of us will be away in international camps, but we'll all be driving to get a good game against Sale."