A year to remember for Simmonds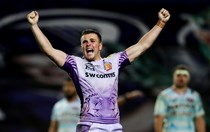 By Mark Stevens
9/1/21
For many, 2020 was a year they would happily consign to the back of their minds, but no so for Exeter Chiefs playmaker, Joe Simmonds.
Unlike for those who suffered loss, hardship and a host of other emotions, Simmonds will one day reflect on a 12 months that brought rich rewards, both personally and collectively.
As the fulcrum of the all-conquering Chiefs side, who would end the year as champions of both England and Europe, the 24-year-old also picked up a decent accolade of his own, that being an MBE in the Queen's New Year's Honours List.
It's quite an honour to be bestowed on someone so young, but it's a fitting tribute to a young man who has happily taken on a leadership role with the Exeter set-up like that of a duck to water.
His on-field displays have been sublime, winning him many admirers across the game, but all of whom believe he should have some kind of place within an Eddie Jones England squad.
Simmonds, though, is not the type to push his own worth. Instead, he will happily continue to go about his on-field business in much the same manner that has served him so well up until this point.
His metronomic goal-kicking prowess is there for all to see, but so too are many of his other qualities, including his coolness under pressure, together with his ability to unlock the tightest of opposition defences.
As Exeter's Director of Rugby, Rob Baxter, often eludes too, the best years of this man's career are still very much ahead of him.
Regards as one of the current crown jewels at the Chiefs, Simmonds was quick to highlight the work of those around him, when quizzed this week on what it meant to be honoured by Her Majesty.
"I was just lucky to be captain of the side in the finals," he said. "To me, it's a bit unfair on guys like Jack Yeandle, he's the club captain, all the other people involved. They did just as much as me, but I was the one lucky enough to get the award."
Such a comment underlines the humility of Simmonds, who at first thought the award was an elaborate hoax which had been concocted amongst his fellow team-mates.
"I actually got an email in November," he explained. "Normally, I'm not good with emails and because it wasn't one I recognised, I think I just deleted it straight away. It wasn't until I looked in mid-December and I had another one, this time saying it was urgent, that I actually read it.
"Even then, I thought it was one of the boys taking the mick. I spoke with my parents and they were unsure initially, but the more I read the email the more it seemed pretty legit. It said I had been placed on the list and that I had to accept it.
"It wasn't until a week or so before it was announced that they told me I got the award and that I was not allowed to tell anyone until it came out."
Within minutes of the public announcement, though, so the barrage of messages and calls started to flood into Simmonds' phone.
"It didn't take the lads long," he laughed. "I had one message from Jonny Hill, he told me to ask ring him urgently, which I did. He didn't answer at first and then within a few minutes, there was a message from him up on Twitter with my name and MBE written after it!
"To be fair, I got a bit of stick from the boys, but it wasn't as bad as I thought. At the end of each training session we have a quick huddle and Tom Francis made the whole group kneel I front of me, but otherwise it wasn't too bad."
No doubt more banter will flow down the line as time progresses, but for now Simmonds is right to look back on the past 12 months with a great deal of pride.
"Of course I'm proud," he says. "Last year was tough for everyone, but for me to end it with two trophies and an MBE, 2020 was pretty good in my eyes. To win those trophies, especially after the hurt of previous years, it meant a lot, not just to us as players and as a squad, but also to those who have supported us.
"In a way, winning those trophies was as much for them, as it was for us."
And now, as Simmonds looks to this New Year, the gifted fly-half is keen to build on the success of last season and drive the Chiefs and himself forward on all fronts.
"It would be great if we could do the 'Double, Double'," he says. "We now know we are capable of doing it. We did it last year, so why can't we do it again? That would be great.
"If I can keep my form going at Exeter and get into that England set-up, that would be great for me personally. Again, though, the key to that is being consistent and doing well here at the club."
Certainly, Simmonds – together with older brother Sam – are leading the way as the Chiefs head the table coming into 2021.
With Joe kicking the points and Sam leading the way on the try-scoring charts with eight in five top-flight games, the clamour for them to get recognised on a higher stage remains high.
"Between us, we don't really talk too much about England," said Simmonds. "Sam has obviously been in around the squad and played Tests before – and he loved being part of all that.
"People might say I'm biased, but I think he's playing his best rugby right now and that he deserves to be called up. For me, I'd love to play for England, but there are lots of young 10s out there all playing well as well. All I can do is focus on playing well here at Exeter; be consistent every time I play; and if things happen after that, then we will see where it takes me."
Whether or not England come knocking soon remains to be seen, but for now Simmonds is still very much one of the king pins in this Chiefs system as they look to conquer all before them once more.