All at the touch of a button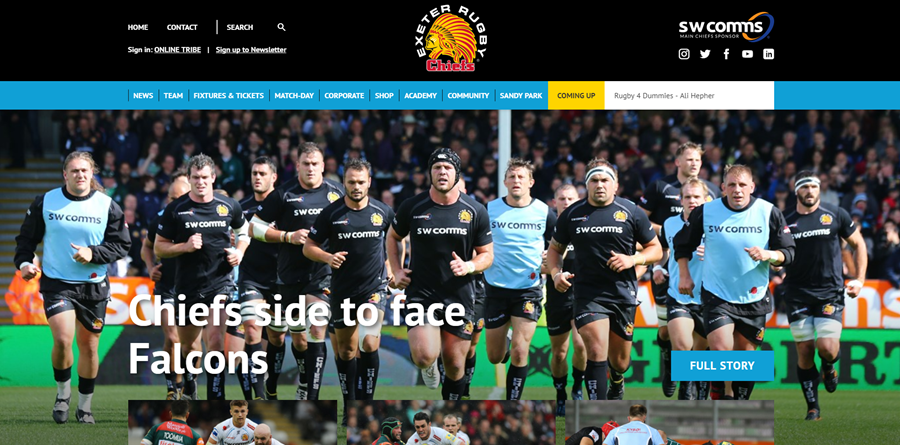 By Mark Stevens
6/10/17
Visitors to the official Exeter Chiefs website need not miss out on anything associated with the reigning Aviva Premiership champions.
Whether it be the latest news from Sandy Park, Tickets, Shop Purchases or logging onto the new Online Tribe, we have everything supporters of the club and from afar need when visiting: www.exeterchiefs.co.uk
AAfter relaunching the official website ahead of the new 2017/18 season, bringing you a new fully-functional, mobile-responsive site, part of the process meant we moved away from our previous official Exeter Chiefs App.
However, did you know you can save the Exeter Chiefs website to your iPad or iPhone's home screen and use it just like any app?
This is a great way to get quick access to your favorite websites, especially those you use throughout the day, and also means you can create a folder full of websites on your iPad, and you can even drag the website's app icon to the dock at the bottom of the home screen.
When you launch a website from your Home Screen, you simply launch the Safari browser with a quick link to the website.
So after you are done, you can either quit Safari or continue browsing the web as normal.
So, how do you pin a Website to Your Home Screen ?

Apple Devices - iPad, iPhone
First, go to the website you want to save to the home screen in the Safari browser.
Next, tap the Share button. This is the button immediately to the right of the address bar. It looks like a box with an arrow coming out of it. (Find out more about the Share button...)
You should see "Add to Home Screen" in the second row of buttons. It has a big plus sign in the middle of the button and is right next to the "Add to Reading List" button.
After you tap the Add to Home Screen button, a window will appear with the name of the website, the web address and an icon for the website. You shouldn't need to change anything, but if you want to give the website a new name, you can tap on the name field and enter anything you want.
Tap the Add button in the top-right corner of the window to complete the task. Once you tap the button, Safari will close and you will see an icon for the website on your home screen.

Android Devices

Open Firefox for Android and go to your favourite webpage.
Press the Menu button (either below the screen on some devices or at the top-right corner of the browser) , then tap on Page.
Tap Add to Home Screen.
Your shortcut should now appear on your home screen.