Appleby reflects on defeat at Harlequins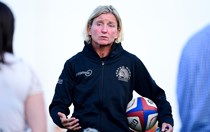 By Harry Scott-Munro
25/10/20
Head Coach Susie Appleby was left disappointed after her Exeter Chiefs side came away from Surrey Sports Park with a 33-14 defeat to Allianz Premier 15s leaders Harlequins.
In abysmal conditions, the hosts opened up a 21-0 advantage at the break, before the Chiefs rallied in the second half, claiming converted tries through prop Olivia De Merchant and debutant Kayleigh Armstrong.
"I felt that we didn't perform quite as well as we have done in the last two weeks despite the conditions," admitted Appleby at the final whistle. "Harlequins adapted to the conditions very well. They've got powerful runners, which they used well, and they also played a pretty smart kicking game in the first half when they had the wind behind them."
Appleby's frustrations at the performance of her side come from her total belief that her side have what it takes to compete at this level.
"We've got the players to compete. I guess if we didn't, I wouldn't be frustrated," she continued.
Reflecting on the opening three rounds of the season, Appleby admitted that despite the 'massive potential' in her squad it's how quickly they can find their way.
Asked to elaborate further, Appleby was confident she could see where the improvements will need to be made: "We're not being embarrassed. What happened out there today was I think we let ourselves down a little. We ran out of patience at times and that gives a good opposition time to get the ball back. We have to learn how to be patient, how to keep the continuity, and how to get over the try-line because we've got the ability.'
Even in defeat, there were still a number of standouts for the visitors. Appleby was full of praise for young scrum-half Flo Robinson who excelled on her first start for the club.
"Flo was outstanding. She's 18 years-old and she takes it all in her stride. There was quite tough ball to deal with on the back foot and she plays well above her body weight, so I'm really happy for her, she's doing really well."
Appleby was also pleased with the performances of Spanish pair Laura Delgado and Patricia Garcia, both of whom made their debuts off the bench. "They settled into a difficult game. Bimba (Delgado) did very well and I have to give full credit. Some good carries, some good shots defensively. Patricia came into a tough game as well."
With a challenging test against a massively improved Worcester Warriors up next, Appleby pinpointed two key areas to work on for her side. "Oh my god where do I start!? Carrying into contact and the clear-out. Massive."
Next week sees the Allianz Premier 15s take its first rest week, allowing a chance for rescheduled fixtures to be completed, before the action resumes as we take on Worcester Warriors at Sandy Park on Saturday, November 7 (2.30pm)