Baxter gearing up for new season ahead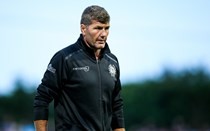 By Mark Stevens
29/8/19
Rob Baxter says the later start to the new 2019/20 season will provide an 'interesting challenge' for all 12 top flight clubs over the coming weeks.
The Exeter Chiefs do not kick-off their new campaign until Saturday, September 21 - a day after the official start of the 2019 Rugby World Cupin Japan - when local rivals Bath are the visitors to Sandy Park.
But the fixture does not signal the start of the new Gallagher Premiership season for the Devon club. Instead, the opening month will be taken up by the Premiership Rugby Cup which - for the Chiefs and many of their counterparts - will also double-up as this year's warm-up fixtures.
Baxter this week welcomed back his first-team squad for the final phase of their pre-season build-up, having let them recharge their batteries for the past fortnight following a gruelling first block of training.
Now, the focus for the Chiefs' Director of Rugby and his players will be to get themselves up to speed for the Premiership Rugby Cup, which will see them take on Bath first, followed by away trips to Leicester Tigers and Worcester Warriors, before rounding things off with a 'Derby Day' tussle against Bristol Bears on home soil.
After that, the Premiership will begin in earnest for last season's beaten finalists, who start their 10th year in the top flight with the visit of Harlequins on Saturday, October 19.
"It's going to be an interesting start with the Cup competition first," said Baxter. "It will make things a little bit different and it will make everyone's approach that little bit different because unlike normal, we're not building towards a warm-up game.
"Instead, we're building for a Premiership Rugby Cup game and we're going to go into it using just 23 players, whereas your first couple of warm-up games you tend to go with perhaps 30 guys who you don't have to risk playing for too long or worry about over playing.
"For us, one of the key challenges will be how we are going to build up our intensity over these next few weeks through our training sessions to make sure we are ready to go because there are going to be quite a few players who are going to have to play a full 80 minutes that first game up."
Just how the Chiefs and their Premiership rivals will go about that task will be up for debate.
"As I said, it will be interesting to see how each club goes after things," added Baxter. 'Some may decide to go not so strong for the first two rounds and then full-on for the last two. Others may decide to use their two home games as their frontline fixtures or they could easily go strong one week, rotate the next, and then do the same for the final two games.
"Every club will do it differently and I think that in itself will make for a really interesting competition because you will get that variety of team playing against each other which will create really good opportunities, particularly for those young, academy players and those new guys who have joined clubs."
The Chiefs will head into the new season with a largely unchanged squad from that of last year, but Baxter has recruited a few new faces with Stuart Hogg joining from Glasgow Warriors, Tom Price (Scarlets), Will Witty (Newcastle Falcons), Jannes Kirsten (Bulls) and young hooker Jordon Poole from Darlington Mowden Park.
Hogg will be missing for the start of the season as he is expected to be in Japan with Scotland - and he is one of a number of Chiefs players who are likely to be featuring in the tournament with their national squads.
Baxter acknowledges having International stars away will be testing, but at the same time insists it will be up to others to showcase the strength in depth that exists within the Chiefs ranks.
"The reality is that you want to win things or you want to do well in competitions, you've got to have some strength within your squad," he continued. "I think what having boys away at the World Cup is forcing on usis that we know we will have to give opportunities to some of our younger players.
"At the same time, we've lost others to injury like Sam Skinner (hamstring) and Elvis Taione (knee) both of whom we thought would be at the World Cup. People like Tom Price and Will Witty are still working their way back to fitness, as are the likes of Alex Cuthbert and Jonny Hill, so it's meant for the first time in pre-season we've actually brought in some players on injury dispensation.
"We've never done that before at this stage of the season, but it's meant we've actually had quite a bit of time with them to get them up to speed, which in turn will help us creep a deep and experienced squad by the end of the World Cup when we hope to welcome back all those other players."