Baxter impressed with squad efforts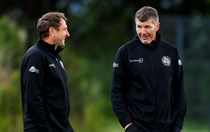 By Mark Stevens
16/7/20
Rob Baxter says he's been 'very impressed' with the way his Exeter Chiefs squad have reported back for training following months of inactivity due to the COVID-19 outbreak.
The Chiefs have now entered into Stage Two training at Sandy Park, a move which has edged them ever closer to resuming their 2019/20 campaign against Leicester Tigers on Saturday, August 15.
Currently, Baxter's side lead the Gallagher Premiership by five points from next-best Sale Sharks, but they have not played any rugby since defeating Westcountry rivals Bath in mid-March.
The Tigers game will mark the return of rugby for the Chiefs and Baxter himself cannot wait to get back into the cut and thrust of English rugby's top flight.
"I have to say I've been so impressed with the players," said the Chiefs' Director of Rugby. "The physical condition in which they reported back for Phase One, it shows they have obviously worked very hard and followed the programmes that were set out for them.
"Right now, we're looking at the loading data coming in - plus the work the guys have done since being back at the club - and we're trying to work out where we can perhaps have some kind of break for them before we get back into matches.
"Maybe we are in a different position to some other teams who are trying to work where they can fit all their rugby in, we are actually thinking where can we potentially fit in a little refresh before the season starts, so that's how pleased I am with the hard work the players have put in.
"For me, it feels like a nice challenge to have. To think about in the current scenario, where the last thing you want to be doing is not being on a rugby field, I've got some elements of where we can look to do that because there is also a reality that we get back into a game scenario where we play Saturday games, but there is also midweek games. That will happen for a number of weeks and if you have the intentions of being in semi-finals and finals, which we do, if we get to that stage, all of a sudden you'll have a four to five-week turnaround before the season starts again into a season where we are likely to play right through until late June.
"There is also the overall picture of how we maintain our emotional energy, as well as our physical energy, and I'm always a big advocate for the guys having that decompression time that allows them to rebuild themselves. Obviously, there are challenge in the current environment with that - and how players have to be responsible when they are away from the club.
"The truth is now - and most coaches will back me up on this - the challenge is not keeping the players safe here, it's very easy to keep them in a very safe and well-maintained bubble here at the club, even in Stage Two training, it's when they leave and become exposed to different social groups that we have the dangers of them potentially bringing it back into the club. All we can do here is limit that chance for it to spread amongst the group."
As well as welcoming back the majority of his squad, Baxter has also seen his trusty lieutenants all return to help oversee training during these past few weeks. Naturally, he's delighted to have his fellow coaches on board, helping to prepare the Chiefs for what promises to be an exciting conclusion to the season.
"We have been back a couple of weeks, but it was not until last week that we started the Stage Two training," added Baxter. "Already there are a load of coaches who have gone hoarse!
"There is no doubt we are an energy-driven, emotionally-driven team, but so too are the coaches here.We already had some fantastic training and it's starting to look really good. We actually feel we are bang on in terms of our progression for that first game in August."