Baxter pays tribute to former team-mate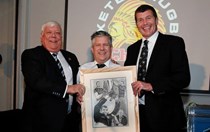 By Mark Stevens
14/10/20
Exeter Chiefs Director of Rugby, Rob Baxter, has led the tributes to former team-mate Ian Stewart, who passed away earlier this week at the age of 53.
The former full-back has been battling cancer for more than two years, but his fight sadly came to an end on Monday.
Speaking at the end of his weekly media briefing, Baxter took time out to talk about Stewart, who was nicknamed 'Danger' by his former County Ground team-mates.
"He was an amazing guy and someone we would still see regularly around the club until recently," said Baxter. "People need to remember the journey to where we are now didn't start a year ago, it didn't start two years ago, even ten years ago.
"I played with Ian when we were in the fourth division and he was part of the team that helped get us promoted out of the fourth division, he was also part of the team that helped get us promoted out of third division, and he played in the game at Reading that got us into what is the Championship now.
"Everyone who knows him, played alongside him, or just saw him play, they will all know he was a great player for this club. Like a few players who played for Exeter, maybe if he had opportunities to live elsewhere or grow up in a different part of the country, he could easily have played frontline rugby.
"Yes, he did use to scare everyone, he scared me as captain, and that's why he had the nickname 'Danger'. There were times he could be as danger for us as he was for opposition – and there is a truth to that – but on the whole, I loved playing with him. He was a great squad man, great socially, and certainly looking at the chats going on currently amongst the former players, you can see the love for him and how much he will be missed."
Baxter's comments were echoed by club president, Bob Staddon, who taught Stewart at Hele's School in Exeter.
"Andy Maunder, Andy Green and Ian Stewart were three of the young men who did so much to get Exeter moving up through the divisions," said Staddon.
"I first encountered Ian at Hele's and he went on to be a fine captain of the school rugby team. He was a talented footballer in the widest sense of the word with a mixture of skill and aptitude you could not defeat.
"If the opposition scored two tries, Ian would want to score three to win the game. He would run the ball from absolutely anywhere on the pitch.
"The type of rugby he played had its dangers – he could win you a match or lose it – but there was never a dull moment on or off the pitch. His death is such sad news."
Stewart started his adult rugby career with Exeter Saracens and although he did not stay long, he is remembered there with great affection.
Brian Sherrell, a Saracens life member and former player, captain and coach, said it was during his time there he earned the nickname 'Danger'.
"We called him Danger as you never knew what he would do when he caught the ball," said Sherrell. "He was always adventurous."
Staddon remembered Stewart as an old-school rugby player who gave everything he had whether it was on the field, in the clubhouse or on the team bus.
"Ian was an entertainer on and off the field with a marvellous singing voice who wasn't afraid of using," said Staddon.
Stewart studied at Hele School then Exeter College before going into the advertising profession with Northcliffe Newspapers. He was an advertising representative for the Herald Express in Torquay and the Exeter-based Express & Echo.
In later life Stewart ran his own media company and also sketched and painted on a professional basis.
Stewart played for Exeter when they were in the old Area South Division – what is now National Two – from 1988-1996 when he switched allegiance to Torquay Athletic. His final few years were spent at Withycombe RFC.
He is survived by wife Nicola – the couple married in 2005 – and children Sam, Bronwen and Freya.