Baxter praises his Chiefs after Bath win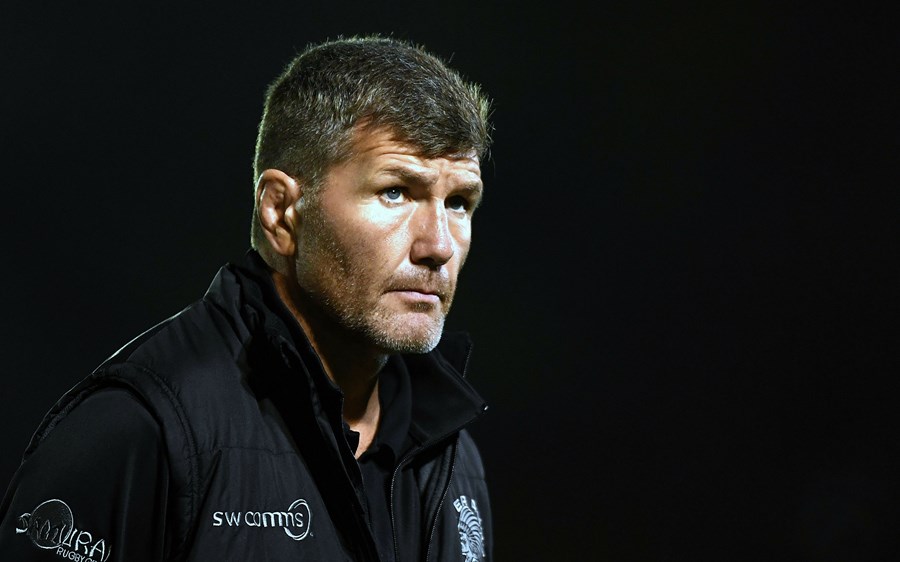 By Mark Stevens
6/10/18
Rob Baxter believes his Exeter Chiefs side were given the perfect warm-up ahead of next week's Heineken Champions Cup opener against Munster at Sandy Park.
The Chiefs maintained their perfect start to the new Gallagher Premiership campaign by recording maximum points in their 39-24 victory away to local rivals Bath on Friday night.
In what Baxter described as a 'bitty' performance from his team, the Devonians were still a cut above their rivals as tries from Stu Townsend, Don Armand, Matt Kvesic, Ian Whitten and Jack Nowell helped to secure all five points in the Roman City.
The victory - Exeter's sixth in as many games - not only put them back on the summit of the table, but means that have dropped just one point out of a possible 30 on offer during this opening block of the season.
Now, domestic matters will be put to one side for the Chiefs, who this Saturday will open up their latest European season with a home encounter against Munster at Sandy Park (3:15pm).
"I thought out performance, particularly in the first half, was a little bitty," said Baxter. "We didn't quite pin our game together like we normally do, but as the game went on we slowly started to exert more of our pressure and our game plan onto Bath. And I suppose the aspect I am most pleased about is probably that period in the second half when the guys decided to drive a win in.
"I was sat there thinking 'maybe we should be kicking this penalty', and that is unusual for us because we are always keen to build pressure, but it felt like it was a game that was going to be very tight, and that's why you have just got to give credit to a group of players who decided to take the game by the scruff of the neck, because what they did for the next 10 minutes was create those tries and took the game away from Bath.
"That wasn't us as coaches sending messages on about what we wanted them to do, that was the players saying we will will define the game now.What they did in that 10 minutes defined the game. Now, what they have to remember moving forward is that is the power they have in their hands if they really want to focus and drive something."
With little to choose between the two sides for at least an hour in the match, it was the Chiefs who flexed their muscles the most in the final quarter.
Baxter added: "Were we at our best? No. Was the first half a bit patchy? Yes. There were some uncharacteristic things from us, but a lot of that is credit to Bath, and I thought their defensive line-out was very good and they put us under an amount of pressure that we didn't really deal with as shown by our handling errors.
"As I said, there were mistakes out there from us tonight, but as I said to the players in the changing rooms, every one of you will be able to look at some moments during the course of the game and see you have done some high end things that got us the momentum to go and win the game.
"Those are the things I want to see in us. I want to see those moments that are just that bit exceptional.To do that for minute by minute for 80 minutes is very tough, but a good player should be able to find some exceptional moments in a game of rugby and I thought we had a few guys that did that today.
"Ultimately, that has driven us forward for a very important win. We've got a good collection of points and a very good foundation to step into Europe next week."