Baxter reacts to Saints loss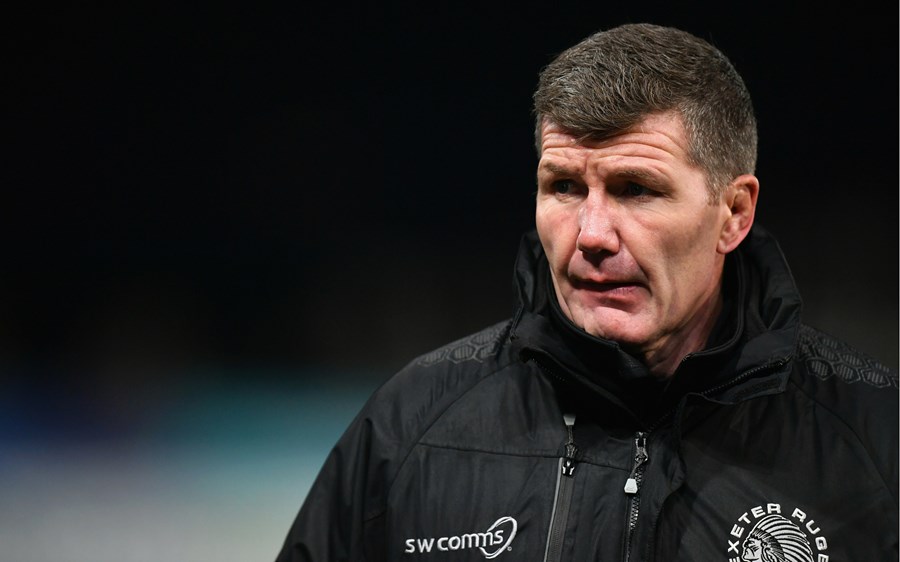 By Mark Stevens
29/12/18
Rob Baxter had few complaints after seeing his Exeter Chiefs slip to defeat in their final Gallagher Premiership fixture of 2018 against Northampton Saints.
Less than a week after seeing off defending champions Saracens with a bonus point victory at Sandy Park, the Chiefs failed to replicate their winning formula at Franklin's Gardens.
A last-gasp try from Matt Kvesic helped earn the visitors two bonus points to put them five clear at the summit of the table ahead of the other top flight fixtures this weekend.
However, Director of Rugby Baxter was impressed with a rapidly-improving Saints side, who moved into the top four in the table and the play-off places with their triumph.
"For me, the game was not about refereeing decisions today," said a typically honest Baxter. "I thought Northampton thoroughly deserved their win, and well played to them.
They just turned up in a better frame of mind, and looked way more up for the fight than we did in the early part of the match, with better physicality and better commitment to the game than we did.
"We didn't make it particularly tough for them, but at the same time they were prepared to fight at a level that was probably a little bit beyond us today.
"Although we fought our way back into it with some good periods, and our forwards got some dominance particularly at the scrum area, and we scored four tries away from home and got two bonus points, which is great, but it was really about Northampton playing better than us, and we have got to have a bit of a look at ourselves.
"Sometimes a Christmas party after beating Saracens potentially isn't the best way to prepare for an away game against a team that is going to come out and fight.
"I have just told the lads to get their heads around it because a team will be coming out fighting against them next week in Bristol.It is not going to be about just going out on the field and knocking games over and winning.
"You win games because of the commitment and effort you put in, and doing what we do, and there was some pretty poor play out there today."
One area that went particularly well for the Chiefs was the scrum, with the Saints giving away 11 penalties in that area, but Baxter added: "We can talk about scrum dominance but can you remember us doing anything off a scrum?
"There were some scrum advantages and we played off some scrums, and the first thing we did was throw the ball on the floor and you can't play like that.
"I thought we were outmuscled at the breakdown, and that is pretty rare for us, and I thought we were out-enthused in some areas, and again that is a little disappointing for us, but the flip of it is we are a good side.
"Today is disappointing and maybe frustrating, and there are various reasons for it, but the big picture is, at the end of this weekend, we will be top or joint top halfway through the Premiership season.
"That's a pretty good and consistent payback from the first half of the season, but at the same time let's get ourselves ready to be in a dogfight with a few teams, because the only team we have played in the last few weeks in the Premiership who hasn't been fighting for their lives is Saracens, and we beat them.
"The rest of the Premiership table shows you everyone is in a fight for something, either to get out of the potential relegation battle that a lot of teams are locked into, or that scrap to get into the top four or top six, teams are coming at you fighting.
"The reality is Bristol will come out fighting just as hard next week and we have almost got to be prepared for that intensity and level of game, more than the tussle that happens when you are fighting out for top four places.
"It is a little bit different, and we have got to mentally engage with what it is going to be like."