Baxter receives Simmonds injury boost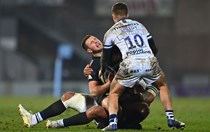 By Mark Stevens
13/1/21
Exeter Chiefs Director of Rugby Rob Baxter is hopeful playmaker Joe Simmonds could be fit for his side's return to Gallagher Premiership action against Worcester Warriors at the end of the month.
With top-flight clubs taking an enforced two-week break following the decision by European Professional Club Rugby to suspend both the Heineken Champions Cup and Challenge Cup competitions, the time off may serve Simmonds well after he picked up an ankle injury in last weekend's loss at home to Bristol Bears.
The 24-year-old fly-half injured his ankle during the second half of the match, following a tackle where he appeared to twist awkwardly. Initially, Simmonds played on after receiving on-field treatment, but eventually hobbled off with five minutes remaining.
Today, Baxter gave a more promising outlook on the Exeter talisman, who last season helped skippered the club to both the English and European titles.
"He has picked up a little bit of an ankle ligament injury," said Baxter. "The first prognosis is pretty good and with this break now dropping in as it is, he is not going to be far off playing by the time we resume so I guess that is a positive from the situation we are in.
"We feel we have been very lucky, Joe feels he has been really lucky, not to pick up anything too serious there."
A lengthy injury to Simmonds would have been the last thing the Chiefs needed, particularly at a time when they are already missing a number of their frontline stars to operations and other injuries.
That said, Baxter was also able to give more positive news on some of those currently sidelined.
"We're hoping by the time we get back to playing that both Stuart Hogg and Facundo Cordero will be all clear in terms of their hamstring injuries," said Baxter. "Alex Cuthbert is very close with his calf as well. A few others are a little bit further away, guys like Jack Nowell, Jannes Kirsten and Jacques Vermeulen, but by the time we get through this break, they will be a lot further down the line themselves."
The sight of Cuthbert returning to the fray will be welcome news for the Chiefs, particularly as the Wales and British Lions winger has suffered two long-term injuries over the past 12 months.
Cuthbert made a brief return in the summer from a serious hamstring injury which required surgery back in December 2019, playing in the 59-7 thumping of Worcester on August 30, but then picked up a calf injury which has kept him on the sidelines until now.
Baxter said: "Alex had a quite significant muscle tear and we just had to give him proper time to recover. People will be aware he has kind of just rolled from an injury to an injury a lot of the time he has been here.
"Alex would play tomorrow, that is the type of guy he is and probably that has been the reason he has picked up injuries or he has sustained worse injuries because he is quite a tough cookie and he wants to be on the field and he gets on with things and maybe sometimes hasn't reported little bits and pieces.
"We are being a little bit overly cautious with him and taking a bit of time but he will be one of those guys who will be around in the foreseeable future."
While Baxter would clearly have liked to have seen a lot more of player who was a headline signing, he said he wasn't annoyed by the situation.
He continued: "It is just one of those things that players pick up injuries and you have got to condition them through it and get them 100 percent fit to play again. There have been no other issues with him accept the injury issue. It is just one of those things.
"One thing that everybody here at the club is very positive about is he is one of the hardest working rehabbing players we have.
"The conditioners and physios can't talk highly enough about how professional he is and how hard he works to get himself right. That is all you can ask of a player. You can't ask a player not to get injured, that is not how it works all you can do is give everything they can to get back on the field as soon as they can and he does that every single time."