Baxter reflects on Quins' loss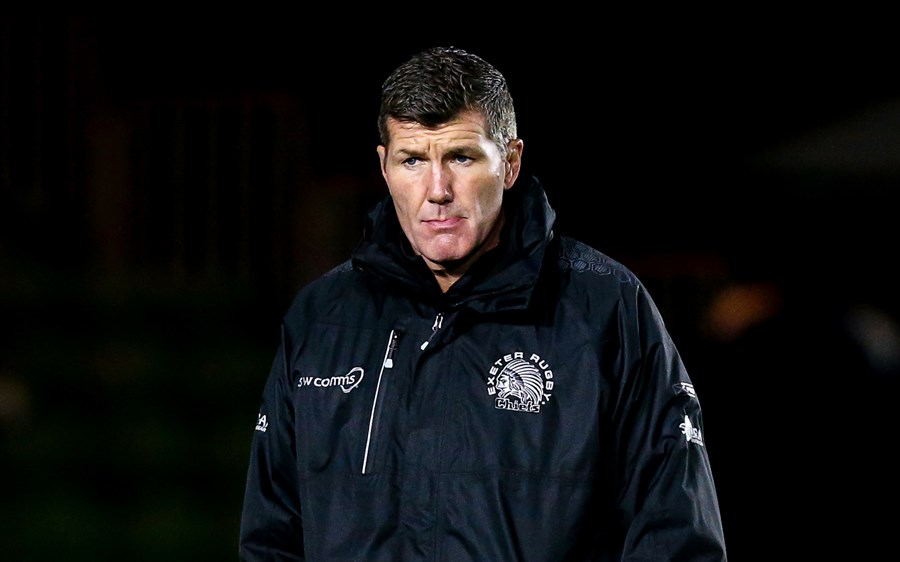 By Mark Stevens
1/12/18
Exeter Chiefs director of rugby Rob Baxter was magnanimous in defeat as his side slipped to their first loss of the Gallagher Premiership season at the hands of Harlequins in an action-packed encounter at The Stoop.
Joe Marchant's crucial late tie swung the game in Harlequins' favour despite a late rally from the leaders as the Chiefs fell to their first away reverse since February 18, 28-26.
Two tries from Nathan Earle either side of the break roared the home side back ahead, but the Devonians did not lose their heads as skipper Jack Yeandle and Ollie Devoto reduced their lead to a single point before Marcus Smith's penalty and Marchant's try ended the visitors' challenge
Despite surrendering an eight-game winning streak, Baxter believes the defeat will only serve as further inspiration for their Heineken Champions Cup clash against Gloucester next week.
He said: "I am obviously pleased with the two points. I was interviewed before the game and I was asked about our away record and I said that we have got quite an extended group who know how to win and to make it hard for the opposition.
"I think that's the bit we got the most wrong today because it felt like multiple times when we started to get back into the game, that's where we errored.
"Early on we could have seized control of the game with a couple of five-metre opportunities, but we knocked on from a simple pick-and-go, another we played away when we didn't need to, and another we made a break but then got penalised for a neck roll on the clear-out, and it's moment like that which have cost us in the end.
"It was frustrating from our perspective because some of our elements that make us hard to beat went missing today. When we scored a try, the first thing we did was concede a penalty off the restart – and that brings pressure straight back against us.
"On the flip side, you also have to give credit to Harlequins because there's no doubt that some of those errors came from pressure from the opposition."
The visitors scored the first try of the match through Matt Kvesic, but they found themselves behind at the break as tries in quick succession from James Chisholm and Earle turned the tables.
Yeandle broke back but again Earle extended Quins' advantage, before Devoto reduced the deficit to a point again. However, it was Quins who sealed the win through Smith's penalty and Marchant's try, despite Ian Whitten's last-gasp consolation which ensured the Devonians at least picked up two losing bonus points.
Baxter added: "If you're going to lose, you want to get two points because it's the best outcome you can get.It's pleasing the fight we showed - and there is no doubt we have a group who are fighting hard - but now we have to use this loss to create a real re-focus and go again.
"When we come in again, I want the guys thinking these are things I have to be really good at as an individual; this is what helps Exeter Chiefs win; and this what I have to keep ramming home, because a couple of those things slipped off today.
"If you look at the game there were multiple times when things like that happened, yet we only have to clear off one or two of them and we probably could have won that game."
With the Premiership now taking a two-week break, the Chiefs will focus their sole attentions on league rivals Gloucester, who they now face in back-to-back Heineken Champions Cup clashes.
Baxter continued: "We have got a fantastic challenge next week and we should have a vibrant training group report in on Monday. That will be players who have played today and recently and got decent game time in them, plus we have got a group of international players who should be back and feeling fresh, having had time to rest and recuperate ready to go hard again.
"If we need to find energy going into these next two games against Gloucester in the Heineken Cup, then I seriously do have to do something to shake things up. I don't think that will be the case, but the changing room is frustrated and disappointed and rightly so.
"I'm sure they want to be in there now, singing a song and celebrating winning another game. They worked very hard to try and do that tonight, but sometimes hard work is not quite enough, sometimes you need that as well as real accuracy and focus, every time that you play."