Baxter reflects on Sarries loss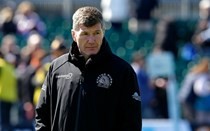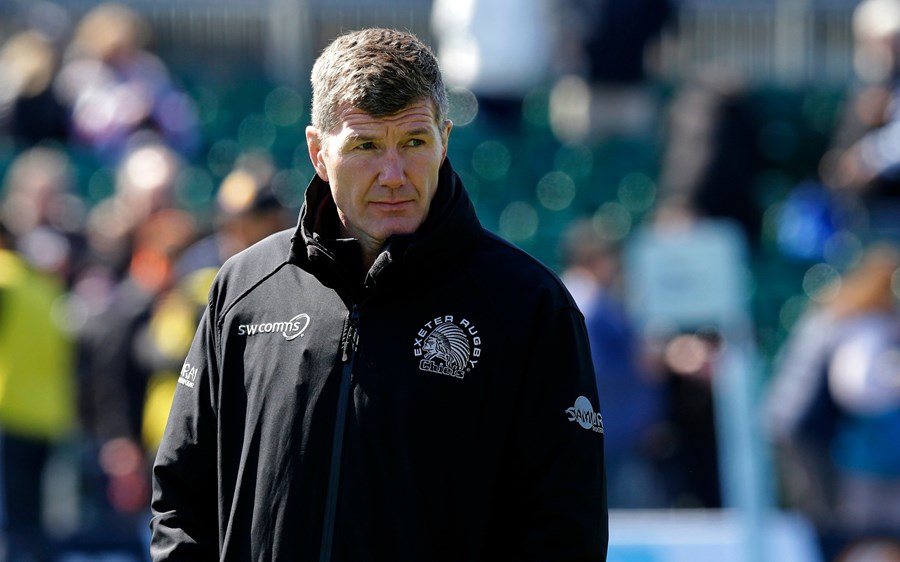 By Mark Stevens
5/5/19
Rob Baxter admits he and his Exeter Chiefs team will have taken plenty out of their 38-7 loss to defending Gallagher Premiership champions Saracens at Allianz Park.
Having opted to make 12 changes from the side which had defeated Harlequins the week previous, the Chiefs Director of Rugby defended his selection post-game, insisting the tactic would – in the long term – reap greater rewards for the Devonians.
Alex Lewington's converted try just before the break that was all that separated the leading two at the breaks, but it was a quickfire double from the Londoners just after the resumption which allowed the Londoners to pull clear at 21-0.
From there on in the Chiefs were forced to chase the game and although they claimed a first-ever top-flight try from young forward Richard Capstick, it was Saracens who pulled clear late on to give them the perfect fillip ahead of their Heineken Champions Cup Final with Leinster this Saturday.
"Bigger picture, would I change the team we selected? No," said Baxter. "There is a reality of where we need to be, both physically and mentally, going into these last couple weeks of the season.
"What I think we have got out of today is a couple of things. It has given us a view on some players, which is always important. It's given some experience to some of our younger players, which has to happen at some point. And, at the end of the day, it's allowed us to rest up some players and, hopefully, clear up a couple of niggles in a few other players, who are undoubtedly likely to play against Northampton and in the semi-final.
"Of course we are a little disappointed with the score, and we are disappointed with some aspects of the performance. But, I am sure when I look at them in detail, there are also some individual performances from some guys who will be pleased with how they have gone as they start their process of playing Premiership rugby.
"I think the important thing is to make sure I am not sitting here now with regrets over how we selected the side, and I still think we did the right thing, we selected the right side, we prepared well, we have shown some good qualities, but we have also been exploited in a couple of areas that were probably predictable when you play Saracens."
Baxter continued: "They came up with a little bit more ball in the air, they pressurised us really well defensively, which we expected, but that said, we did find some momentum at times, but we weren't really able to follow it through.
"When you look at possession stats, they will probably be pretty even or in our favour, but they were just so much more clinical and exploited momentum when they got it, and we particularly learned a hard lesson just after half-time.
"You could tell we had a few lads who had gone 'oh, that was tough, but we are doing okay', and the minute we thought we were going okay, that little bit of just being a little bit off really hurt us.
"There was a soft try down the blindside, a break through the middle, and all of a sudden the game seems to have gone, on top of that soft try in the first half, and whatever way you look at it, you have got to say their first try was fortuitous.
"Two tries just after half-time and it is a tough place to come and to be playing into the wind and chasing 21 points.
"There were elements where we went after it pretty well, but the pressure of that scoreboard, the pressure of playing into the wind and the pressure of how Saracens played in the end all added up to what the scoreline was."
With no fixture to prepare for this coming week, Baxter says he will using the coming days – and that of next week – to get quality training time into his squad ahead of the visit of Northampton, who moved back into the top four at the expense of Harlequins with their bonus point win against Worcester Warriors.
At the same time, the Chiefs leader will also build on the positives created in the capital by his side, who for long periods were as competitive as Saracens in a lot of facets of the game.
Baxter added: "They were probably just a better brand of Saracens, than we were a brand of Chiefs today.
"Normally, when both of us are bang on, it is a pretty tight game, and we have come here and won and beaten them at Sandy Park, and we have beaten them in a semi-final and beaten them in big games.
"It isn't that there is an unbridgeable gap; the two sides out there today, they were better at being Saracens than we were at being Exeter Chiefs, and ultimately that is what has broadened that gap on the scoreboard.
"The positive thing is that I am pretty confident going into our next game at home to Northampton in a fortnight, that we will probably have one of our best squads we have had to select from all year, and that is kind of how it had to be, that we were at our strongest going into Northampton to give ourselves the best chance of winning, and that was the reason behind selection for today, and that is still the correct reason going forward, and I can't say that strongly enough really. The reasons for doing what we did today still hold now, despite us losing the game."
Baxter was particularly pleased with the performances of both Alex Cuthbert and Max Bodilly, both of whom have sat out large chunks of action this season due to injury.
"I thought Cuthy was particularly good, because often he made ground for us with no space and nowhere to go, while Bods managed to do what we thought he would do, which is slip some of that line-speed pressure and make the odd break.
"There were times when we actually found momentum and space quite well in the game, but what we weren't able to do was follow it through with the next piece of pace and the next piece of momentum.
"At the end of the first half I was thinking 'they have scored a bit of a fortuitous try with a hack through that got held up in the wind and bounced, and we got over their line twice but not managed to get the ball down, and that tale of what happened in the first half then got really exposed in the five minutes after half-time, and then after that the game was always going to be a real battle for us."