Baxter says Chiefs ready for title defence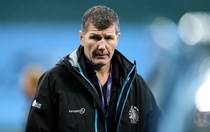 By Mark Stevens
18/11/20
Not even a month has passed since Exeter Chiefs sealed the second part of their historic English and European double with victory across the road against Wasps.
In what was – and continues to be – crazy times for all and sundry, it was the Chiefs who prospered when rugby returned last August following months of inactivity due to the global Covid-19 pandemic.
On Friday, Rob Baxter's side kick-off the defence of their second Premiership crown here at the Twickenham Stoop, against a Harlequins outfit who, in Round 12 last term, inflicted a narrow 34-30 defeat on the Devonians.
A last-gasp penalty try, awarded by referee Christophe Ridley, sealed victory for the Londoners in a game which ebbed and flowed from minute one.
Now, the two clubs are set to meet in Round One of the 2020/21 campaign, a fixture Baxter himself says he and his team are relishing, despite having just over a fortnight off since their title success.
Asked this week how challenging the short turnaround would be to his side, Baxter replied: "Right here, right now, I'm going to say it's not been too bad, but we've not played yet.
"In truth, is it that big a challenge getting a team ready who have just won two trophies? I would say it would have been a much harder challenge getting them ready had we lost both finals.
"I am going to be optimistic about this and say we look like a group of guys who look ready to go again – and why shouldn't we be!
"They have done very well in this scenario up until no. There is now a new one to deal with, so we should have a confidence in ourselves and how we play, and we should know how to go and win at Harlequins because we've won plenty of games of rugby in the last few years.
"As I said, we should know how to win, so it's not going to be about a doubt on knowing how to win, it's going to be about how prepared we are to drive ourselves physically, that will be the challenge."
The Chiefs have proved, however, that they are the team to be and Baxter acknowledges last season's achievements mean they will have a sizeable target on their backs coming up against their top-flight rivals.
"It will be tough, of course it will, but you know that will be the case every time you kick-off a new season," added Baxter. "Our expectations are we will go out, play well and collect points.
"I have never spoken about we should go out with a series of wins. My approach with the players has always been we collect points, where and whenever we can, and it's that accumulation that keeps you at the right end of the table.
"You just keep doing it as best you can, so that means whenever there is an opportunity for a try bonus point, you work hard towards it. If there is an opportunity for a draw, you take the draw over a loss, and if there is an opportunity to lose by less than seven points, again you try and take that losing bonus point.
"We have always spoke the same language on that front. If you look at our results over the years, it's very rare that we don't collect some sort of points from a game. That's our approach and we keep it pretty simple as best we can."