Baxter's joy at Cuthbert deal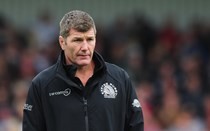 By Mark Stevens
27/3/18
Rob Baxter has spoken of his delight after today confirming the signing of Wales and British Lions winger Alex Cuthbert from Cardiff Blues.
The 27-year-old back has agreed a three-year deal with the reigning Aviva Premiership champions and will team up with his new club ahead of the 2018/19 season.
Cuthbert - who has won 47 caps for Wales, as well as one for the Lions - is Baxter's first confirmed new arrival at Sandy Park ahead of next season.
Commenting on the deal, the Chiefs' Director of Rugby said: "We have actually been looking at Alex for a few years. Initially we looked at him when he was first breaking into top flight rugby, and he's someone who we have been tracking for some time.At this stage, he is a player who is looking for a new challenge and that's the important thing to us.
"You look at his attributes, he's a big guy, 6ft 6in, well over 100 kilos, he's quick and he's big, and if you watch a number of his games, you can see some attributes in there that make him a very good and very dangerous player, and we actually think a lot of his top attributes will really work at Exeter Chiefs.
"Sitting down and talking with him, I like what he has to say about the new challenges he wants and the things he still wants to achieve in rugby. The fact we have seen attributes in his game we know will work well for us, made it a simple decision in the end for us to go out and sign Alex."
Having spent all of his senior career playing in Wales, Cuthbert's arrival in the Premiership will certainly be considered as a major coup for the Chiefs, who currently lead English rugby's top flight after 18 rounds of their title defence.
"Alex has openly said to us he wants to come in and work extremely hard and look to develophis game and move it forward," added Baxter. "He will be 28 when he comes to us in the summer and I know he is ready to go flat out in a new experience of Premiership rugby.
"We feel he will fit in very well and that he will thrive under the challenges we place on him. We're also confident he is the kind of guy who is still very emotional about his rugby, he's still enjoying playing and being an important part of a good team.
"For sure, he wants to achieve things both individually and collectively as a team, and those are the reasons we feel he will come in and work very hard. If he does that, then I've no doubt he will be a very good player for us."
However, Baxter has warned his new recruit that the stockpile of talent already in place at the Chiefs is mightily impressive and that he will have to knuckle down hard, if he wants to secure a regular spot within the Exeter match-day squad.
"He understands we already have a very good set of backs here at the club and that he will have his own challenges of trying to break in to the team," continued the Chiefs leader. "That said, his best games have often come in his biggest games.
"What I like is that he wants to come here and prove a point or two. This move is a very exciting prospect for him and there is no doubt that when Alex is playing well, he is one of the most dangerous wingers in Europe, if not the world."
Cuthbert moves out of Wales, however, does mean that under the current guidelines laid out by Welsh head coach Warren Gatland, any hopes of adding to his tally of Test caps will be put on hold.
"He's aware that he won't be eligible for Wales, but that's not the single most important thing for him at this moment. The most important thing is that he's playing at the level he wants to playing at - to his own capabilities - and he also aware that whatever happens after that kinda of tends to happen.
"The cap situation may change down the line, who knows what will happen there, but what is important to him now is how he trains, how he plays and what he wants to achieve day by day."