Bradfords Building Supplies extend their partnership with the Chiefs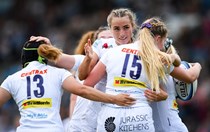 By Mark Stevens
27/7/22
Exeter Chiefs are delighted to announce that they have today extended their partnership with Bradfords Building Supplies for the 2022/23 season.
As a Key Club Partner, Bradfords will continue its support of both the Exeter Chiefs Men's and Women's team with kit sponsorship and signage around the stadium, together with player sponsorship for international stars Henry Slade (England) and Linde Van Der Velden (Netherlands).
Also integral to the agreement is the continuation of their sponsorship for the Bradfords Community Cup, a major regional tag rugby festival for Under-8s held in Exeter.
The annual tournament attracts in the region of 1,000 youngsters and culminates with a showpiece final here at Sandy Park.
David Young, CEO of Bradfords Building Supplies, said: "Sport is a unifying influence in local communities and the Exeter Chiefs work hard to promote access to participation in rugby across different age and social groups. As a family business that's passionate about supporting the communities we serve, partnering with a club that does so much to encourage access to sport – including at a grassroots level – has been a natural fit."
Paul Malloy, Head of Marketing at Bradfords, added: "The support we receive from the Exeter Chiefs players we sponsor when it comes to our own campaigns has been highly valued. For example, Henry Slade's involvement in our recent Men's Health Week campaign to encourage people to check in on their friends really helped to drive awareness of this important issue. For us, our involvement with the Exeter Chiefs has been a genuine partnership on many levels."
It's a partnership that works on all levels and here at the Chiefs we are indebted to the support Bradfords continue to give to the club each year.
Tony Rowe OBE, CEO and Chairman of Exeter Rugby Club, said: "We are delighted to have Bradfords Building Supplies as one of our key club partners moving into the 2022/23 season. This is a relationship that is now several years in the making and it continues to deliver for both parties, both on and off the field.
"Not only do Bradfords have a big visual input in terms of sponsorship with our successful Men's and Women's teams, but with sponsorship of two of our international stars, as well as investing heavily into our community links with the Bradfords Community Cup, which brings together rugby-loving youngsters from across the region, it really is a winning partnership that offers so much."
Bradfords Building Supplies has more than 40 branches across the South West, including Exeter, serving the trades, home renovators and DIYers.