Centre of Excellence Chiefs Team Named to Face Harlequins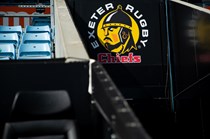 Exeter Chiefs' Centre of Excellence team have named their matchday squad to take on Harlequins this Saturday afternoon at Cobham RFC.
The game, hosted at Cobham's Old Surbitonians Memorial Ground will kick off at 2pm.
The centre of excellence [CoE] is the player pathway programme for women's players. Exeter's team encompasses both the Devon and Cornwall counties and has a proven track record of having players graduate through the system to gain Chiefs Women's contracts – players such as Hannah Sams and Josie Plant.
Head Coach, Eilidh Sinclair expects a Harlequins team who will put her players to test.
"Harlequins we expect to bring a very good outfit to the game. We played them in the pre-season tournament and they're a very good side. They obviously have a larger talent pool to pull from than we do."
"This weekend we're expecting them to be very physical up front and very talented in the back line. It's probably going to be a big test to how we've developed throughout the start of the season and should hopefully give us a good marker as to where we may need to go for the remainder of the season."
For the 2023/24 season, the programme has carved out more time for training than in previous years, meaning that Sinclair is intrigued to see her players experiment with their talents – on the gameday park as well as the training ground.
"I would say the girls have bought-in incredibly well to the programme. Things are quite new to a lot of them in terms of how we're asking them to play and the level of intensity we're asking them to bring – but they've adapted really well and gelled as a team."
"As a team, their willingness to play and have a go excites me – they're not scared to try something. My philosophy as a coach is that I'm quite happy for them to try something a little wild or out of their comfort zone in these games because, if they don't do it in games or in the training environment, then they're never going to execute it as they get older."
The game will be a real test for the group of young players who will hope to be potential stars of the future for the Chiefs Women's team.
Squad
15 Evie Groves
14 Tolly Pulfer
13 Jessica Gagan
12 Mia Ryrie
11 Aimee-Jean Holsey
10 Charlotte Wreford
9 Freya Vitali Baker
1 Mikka Haskin Hall
2 Reese Williams
3 Erin Roberts
4 Jasmine Coxhead
5 Poppy Trewhella
6 Kayleigh Carew
7 Poppy Symons
8 Ayla Black
16 Lottie Reid
17 Rhianna Everson
18 Emily Sanguinette
19 Beck Rea
20 Emily Davey
21 Charlotte Heath
22 Lily Relton
23 Alice Constable