Chiefs Academy 79 Navy U23s 10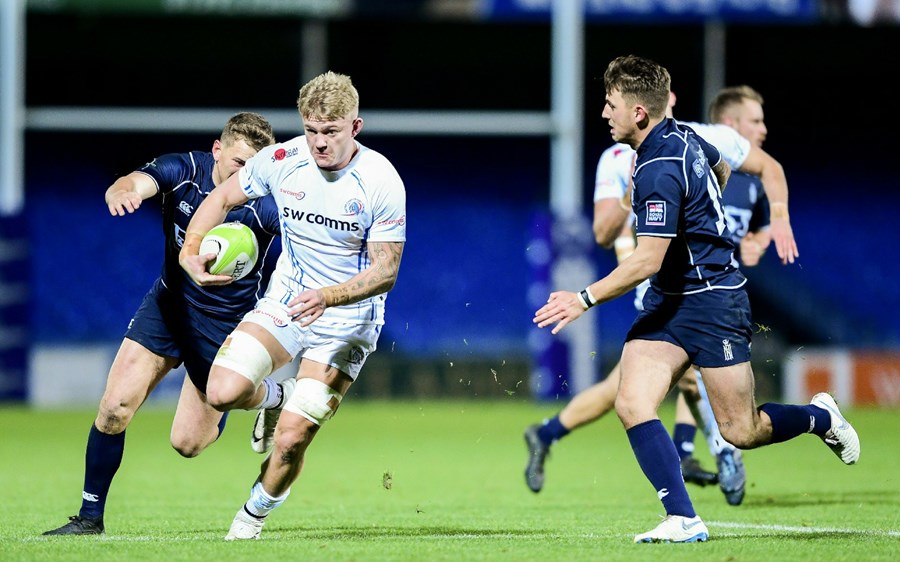 Exeter Chiefs Academy 79

Royal Navy U23s 10
Mark Stevens at Sandy Park
Exeter Chiefs Academy coach Gareth Elliott was full of praise for his young side after they brushed aside the Royal Navy Under-23s at Sandy Park.
Although falling behind to an early penalty from visiting full-back Jake Hanley, the Chiefs dominated from there on in, running in 13 tries on the night to seal a comprehensive victory.
No.8 Paul Davis led the way with a hat-trick of tries, while there were doubles for AJ Cant and Jordan Gott, as well as touchdowns for Luke Flack, Joe Snow, James Tait, Danny Martin, Connor O'Shaughnessy and a Penalty Try.
Will Trinder and Dino Bozic completed the home side's scoring with three conversions apiece, while in reply the Navy countered with a converted try on the stroke of half time by centre Brad Janes.
Post-match a delighted Elliott said: "There were some really good performances out there today. It's good to see our senior academy players get out on the Sandy Park pitch and show their talents in front of some of the coaches watching.
"It's brilliant to see them playing together, they bounce off one another really well, and the other highlight was seeing some of the other guys come in who are out of the system, yet fit in really well and produce a top quality performance."
A dominant home pack helped laid the foundation for the Exeter backs to run riot and among those to shine were the likes of Davis, Max Norey, Cory Teague and Lewis Pearson.Behind, there was plenty of enterprise too with the back three of Cant, Gott and Wyatt particularly dangerous.
Elliott added: "As I said, it's good for these players to get out there, get some game time under their belts, and put in good performances in front of the coaches. The scoreline obviously reflects that it was a big win for us in the end, but our lads had to work hard for that. The Navy are a good team, very physical, especially in and around the breakdown, but we dealt with that well and it allowed us to play to space on a big pitch."
With a number of the senior academy players gleaning match exposure at loan clubs such as Plymouth Albion and Taunton Titans, Elliott believes the signs are encouraging moving forward.
"Its key that these players are getting rugby week in, week out at a good level," he continued. "They need to be out there playing because that is where they are going to learn most. Training is brilliant, but unless they are playing at the weekend, there are certain things that can't develop within their games.That's why games like tonight are also invaluable as it not only gives them game time, but it also allows us as coaches to see how they react in certain situations."
Chiefs Academy: J Gott; AJ Cant, L Flack (S Fellows 66), F Perica (T Wyatt 66), T Wyatt (J Skelcy 59); W Trinder (D Bozic 46), J Snow (capt, J Tait 56); D Southworth (M Cottle 66), M Norey, W Norton (D Martin 56); L Pearson (P Ingoldsby 55), J Clemson (C O'Shaughnessy 40); C Teague, H Wright, P Davis (W Ridout 60).
Tries - Cant (2), Gott (2), Flack, Davis (3), Snow, Tait, Martin, Penalty Try, O'Shaughnessy; Conversions - Trinder (3), Bozic (3), Penalty Try
Royal Navy: J Hanley (S Mitchell 64); J Rudder, B Janes (R Scott 62), B Jeacock (R Cooper 31), J Williams; D Rutter (E Holland 55), N Burgess (J Mikarenda 55); S Vernon, S Skinner (S Yeomans 69), K Alton (T Rees 49); R McLean (B Illsley 64), H Wilkinson (S Bramwell 45); B McLean, C Mills (H McCready 60), T Papp.
Try - Janes; Conversion - Hanley; Penalty - Hanley
Referee: M Weston