Chiefs duo switch try-line for shoreline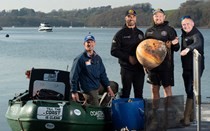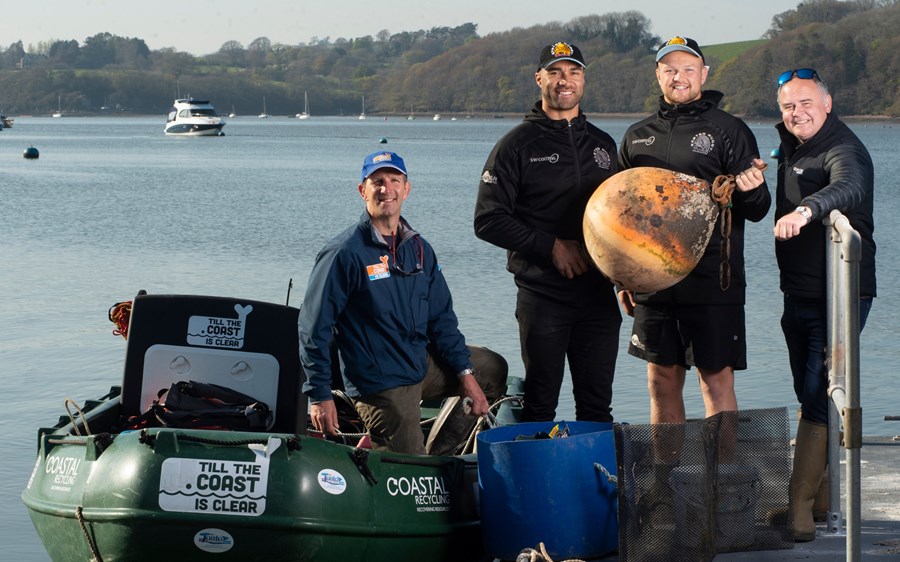 By Mark Stevens
29/4/19
Exeter Chiefs players Olly Woodburn and Tom Lawday have been helping do their bit for the environment working on the great new initiative 'Till the Coast is Clear'.
Joined by Richard Marsh from Coastal Recycling, Olly and Tom helped to raise awareness for the scheme, which has the focus to clear the hard to reach places along our coastlines of plastic and rubbish that otherwise would go un-seen and un-touched.
With the sun shining and not a cloud in the sky, the team worked alongside Gary Jolliffe, the founder of Till the Coast is Clear, at the picturesque Blackness Marine, near Dartmouth.
Boarding the specialist vehicle 'Coast Clear One' the team headed out to a stretch of shoreline just along from Galmpton Creek on the River Dart. Protective gloves donned and armed with litter picking sticks and buckets, the team got to work and soon collected a plethora of discarded items from a small stretch of shoreline, the items included; plastic bottles, flip flops, bin lids, plastic wrap, string, DIY fishing gear, crisp packets and even an old buoy.
Gary said: "You never quite know what you will find at each location and on each trip. Many items are likely to derive from the local surrounding area and tend to get caught up in the undergrowth along the shorelines of areas such as the River Dart as the tides rise and fall.
"The responsibility of clearing the areas sits with all of us and it is an important part of keeping the areas habitable for wildlife and enjoyable for future generations. Pressure undoubtedly needs to be put on manufacturers to consider how they can encourage consumers to dispose of empty packaging and items responsibly to break the cycle."
Richard added: "It was great to be joined by Olly and Tom, get hands on and find out more about the work of Till the Coast is Clear. There's no question all three of us were shocked by how much we collected in such a short space of time. The work that Gary undertakes is an important step to protecting our environment and coastlines for wildlife and future generations. Coastal Recycling continue to support the project by ensuring materials collected are efficiently recycled".
The trip back to the marine did not disappoint with seals, cormorants and herons putting on displays in the sunshine providing a stark reminder of the importance of this work and the need to look after our beautiful coastline.
To find out more about Till the Coast is Clear visit them on Facebook @tillthecoastisclear
To find out more about how Coastal Recycling and how they help organisations recover resources visit www.coastaluk.co.uk