Chiefs help College to celebrate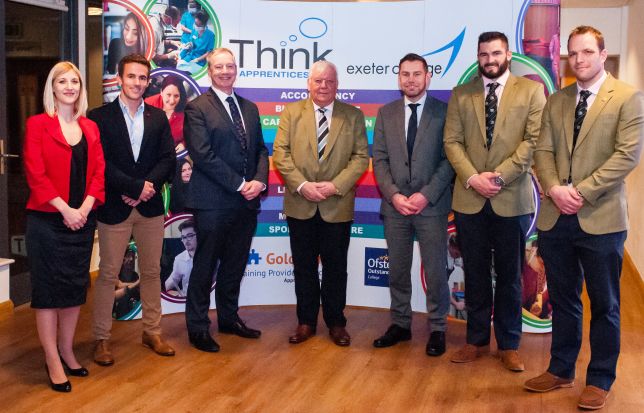 Pictures: Exeter College
By Mark Stevens
3/3/17
Exeter Chiefs duo Kai Horstmann and Don Armand joined club chief executive Tony Rowe OBE in helping Exeter College celebrate their annual awards night at Sandy Park.
Celebrating apprentices and honouring the employers that support the work of the college's award-winning apprenticeship programme, more than 150 guests gathered for the glittering awards ceremony, which saw the achievements of 12 apprentice award winners and six employer winners recognised.
First team stars Horstmann and Armand were on hand to dish out the prizes to all the award winners on the night, whilst international and Premiership referee Luke Pearce, himself an Exeter College alumnus, was the guest speaker and spoke fondly about his own time at the College and his own experiences of officiating at the very top end of the modern day game.
This year event marked an outstanding year for Exeter College having achieved record apprenticeship success rates, engaging the highest number of apprentices and being the winners of a National Apprenticeship Award.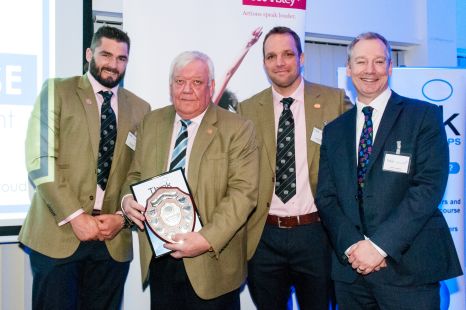 John Laramy, Exeter College Principal and Chief Executive, said: "These awards mark a truly outstanding year for apprentices at Exeter College, but for me, the true mark of success is the partnership between apprentices, employers and the college, which sits at the heart of our apprenticeship provision.
"I would like to thank the employers, apprentices and college staff for their collective talent, commitment and support, which has made the last year an 'exceptional year' for our apprenticeship work."
Mike Blakeley, Director of Apprenticeships and Employer Engagement at Exeter College said:  "Our recognised success as a provider is down to the hard work and dedication of our employers and their Apprentices.
"It's an honour to be able to celebrate their achievements. The event focuses on our winners but it also recognises the success of our 1,500 Apprentices and the efforts of our exceptional business network which now numbers 850. We are exceptionally fortunate in this area to have some of the most supportive and forward thinking businesses in the country."
Other notable recognitions were made to the Exeter Chiefs AASE winning rugby team with the award being accepted on their behalf by Mr Rowe and Outstanding Commitment to Apprenticeships was awarded to Fiona Parsons from South West Water and South West Apprenticeship Ambassador.