Chiefs help launch Greggs Foundation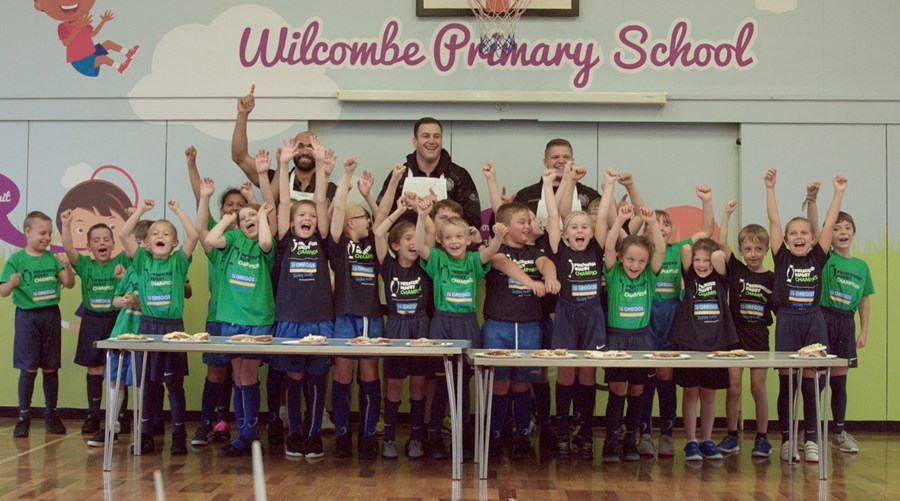 By Mark Stevens
4/10/18
Exeter Chiefs were delighted to help Premiership Rugby launch a new schools programme to help teachers and parents prevent the 'obesity epidemic' among children in England's primary schools, where one in three children leave primary school overweight.
Tackling Health is a free interactive education programme designed to help teachers embed physical literacy skills and build better understanding and habits among seven and eight-year-olds in Years 3 and 4.
Tackling Health is funded by Greggs Foundation and designed to educational and dietary standards set by Change for Life, Public Health England's public health campaign.
It will be delivered in classrooms across England by Premiership Rugby clubs but will also make teaching materials available over the internet, with the programme aiming to help over 30,000 children over two years.
Wilcombe Primary School was the venue for the programme's unveiling as Chiefs players Olly Woodburn, Mitch Lees and James Kenny joined Key Stage 2 pupils at Wilcombe Primary School in a lesson about making healthier food choices.
The children were then paired off and made sandwiches using an array of ingredients on offer, with the best-looking and healthiest being crowned the winner, with the players impressed by what they saw.
Woodburn said: "It's important getting it into children's' heads at a young age that nutrition is very important to their future. If they can get in good routines about eating healthy and coming out of school in good shape and being active then it can only benefit them going forward.
"There is an epidemic at the moment around childhood obesity, with one in three obese or overweight when they leave school, and we have to try and keep that down. This programme will help keep them active and by including them in sport it makes them more social and allows them to make more friends, which will all help when they grow up."
Wayne Morris, Community and Corporate Responsibility Director, Premiership Rugby, said: "Tackling Health is an interactive project for children aged seven and eight, which takes a holistic approach to teaching children about their own health, well-being and about leading a healthy lifestyle. Evidence suggest as they go through primary school obesity becomes a bigger issue. By targeting children in Year 3 and 4, we're hoping to embed good eating and activity habits before bad habits set in."
Tracy Lynch, Greggs Foundation Manager, added: "Greggs Foundation has a long standing history of making a difference in the communities that Greggs operates. Tackling Health is a fantastic example of how collaborative action can achieve and sustain positive long-lasting impact.
"We are delighted that what started out as a local programme delivered in just 15 of our Breakfast Club schools in the northeast with Newcastle Falcons has become a nationwide project, which thanks to the support of Premiership Rugby will offer thousands of children the opportunity to learn more about making healthier food choices and get active through playing tag rugby.
"The fact it is supported by Public Health England, who Greggs have been working closely with on its customer health journey, adds real value - it has never been more important to support young people to lead healthier, more active lives and we are extremely proud to be doing our part."
Morris commented: "It felt it was time we stood up and tried to use our skills and assets to address this obesity time bomb. If we can help teachers, parents and kids improve their understanding of food and diet and also to build more activity and sport into their lives, we will have done something important.
"Tackling Health is a great partnership with the Greggs Foundation, which has a great history of delivering Breakfast Clubs at primary schools all across the country. Premiership Rugby also has a great history of making learning in a school environment fun for young people and when you put those two things together you get a fantastic programme like Tackling Health.
"It's really going to make a difference to 30,000 young people across the country, improving their physical activity and their healthy eating."
Tackling Health is one of a number of programmes which Premiership Rugby clubs run across England to tackle the health, education or inactivity problems which the country faces. These are all part of its strategy to improve the lives of people, especially young people in England. The plan is known as 'A Plan to Improve A Million Lives'.
For more information and to download key Tackling Health resources visit www.premiershiprugby.com/tacklinghealth and for more information on the Greggs Foundation please visit www.greggsfoundation.org.uk