Chiefs quartet in Canadian squad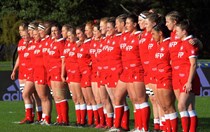 By Mark Stevens
21/7/22
Four Exeter Chiefs players have been named in the Canada Women's squad for their clash with Italy this weekend.
Front-row duo Emily Tuttosi and DeLeaka Menin, together with fellow forwards McKinley Hunt and Gabby Senft, have all been included in Kevin Rouet's squad for the game at Starlight Stadium in Langford.
Both Tuttosi and Menin will start the game, whilst Hunt and Senft have been included on the bench for the Test match, which will be Canada's first on home soil in seven years.
The match is one of two warm-up fixtures on home soil – the second against Wales in Halifax, NS on August 27 - for the Women's 15s before they head to the Rugby World Cup in New Zealand later this year, for which they will be seeded No.3.
Following her return from injury, Fabiola Forteza starts in the back row, while Julia Schell will lineup at fly half for the second senior cap of her career. Menin will earn her 35th cap at tight=head prop and, should they enter the field as substitutes, Karen Paquin and Brittany Kassil will claim their 30th and 25th caps respectively. Sophie De Goede will captain the side.
"Our preparations this week have been exceptional," said Rouet. "We are pleased with how the team has performed in practice and how the group is coming together as we continue our 'Journey to the Rugby World Cup'."
He added: "This weekend's match against Italy will be difficult but we will relish the challenge and know we have what it takes to get the win. We also look forward to playing in front of a passionate home crowd at Starlight Stadium."
CANADA WOMEN'S SQUAD TO FACE ITALY WOMEN
1. Olivia DeMerchant (Mapledale, NB) – Halifax Tars
2. Emily Tuttosi (Souris, MB) – Calgary Hornets / Exeter Chiefs
3. DaLeaka Menin (Vulcan, AB) – Exeter Chiefs
4. Emma Taylor (Scotsburn, NS) – HRFC / Saracens
5. Tyson Beukeboom (Uxbridge, ON) – Cowichan RFC
6. Courtney Holtkamp (Rimbey, AB) – Red Deer Titans / Loughborough Lightning
7. Fabiola Forteza (Quebec City, QC) – Club de rugby de Quebec / Stade Bordelais
8. Sophie de Goede (Victoria, BC) – Castaway Wanderers
9. Brianna Miller (Pointe-Claire, QC) - Sainte-Anne-de-Bellevue RFC
10. Julia Schell (Uxbridge, ON) – Guelph Redcoats / Castaway Wanderers
11. Paige Farries (Red Deer, AB) – Westshore RFC / Worcester Warriors
12. Sara Kaljuvee (Ajax, ON) – Toronto Scottish
13. Maddy Grant (Cornwall, ON) – University of Ottawa
14. Sabrina Poulin (St-Georges, QC) - T.M.R.R.F.C. / Stade Rennais
15. Elissa Alarie (Trois-Rivieres, QC) – Westshore RFC / SABRFC / Braves de TR
16. Gillian Boag (Calgary, AB) – Capilano RFC
17. Brittany Kassil (Guelph, ON) – Guelph Redcoats
18. Maya Montiel (Dieppe, NB) – University of Ottawa
19. McKinley Hunt (King City, ON) – Aurora Barbarians / Exeter Chiefs
20. Karen Paquin (Quebec City, QC) - Club de rugby de Quebec / Les Lionnes du Stade Bordelais
21. Gabrielle Senft (Regina, SK) – Castaway Wanderers / Exeter Chiefs
22. Justine Pelletier (Riviere-du-Loup, QC) – Club de rugby de Quebec / Les Lionnes du Stade Bordelais
23. Alexandra Tessier (Sainte-Clotilde-de-Horton, QC) - Sainte-Anne-de-Bellevue RFC