Chiefs Women building up head of steam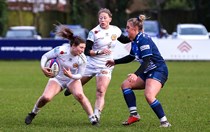 By Harry Scott-Munro
11/1/22
Exeter Chiefs Women's scrum-half Flo Robinson believes momentum is building after her side kicked-off their 2022 campaign with an emphatic 43-7 victory over rivals Sale Sharks.
After a tight first half had seen the Chiefs take a slender lead thanks to tries from Jennine Detiveaux and Kate Zackary, the second half proved more profitable as Susie Appleby's side ran in five second half scores from Laura Delgado, Linde van der Velden, Emily Tuttosi, Merryn Doidge and Brooke Bradley.
"The first half was a bit tricky," admitted Robinson. "We made mistakes and got stuck in our own half a bit, but by sticking to our processes we got together a really good second half performance. At half-time, we knew we were making a lot of mistakes and not really playing in the right areas of the pitch. But second-half, we just stuck to what we do."
The Sharks are famed for their physicality and abrasive play, with Robinson praising the hosts for their efforts, before crediting her team-mates for the way they matched that physical edge.
"They really came at us. You know Sale are going to be like that," she added. "They scream and shout a lot and have a lot of energy, so it's always tough to come up here. But we showed that we are more of an aggressive team than we have been previously. We're here to try and win it."
Coming into the match, Head Coach Appleby admitted that she wanted her side to focus on more than just aiming to reach the play-offs – with Robinson explaining how the whole squad have bought into the change of approach.
"Susie made it really clear what our aim is. We're all buying in know what the targets are. Coming into the second half, we put it together and showed what we want to do and what we can achieve as a team."
And this weekend against reigning champions Harlequins will be something of a litmus test for the Chiefs.
Robinson is expecting a "big battle" at Sandy Park with the chance for the Chiefs to stamp their authority in what is proving to be one of the most competitive seasons in recent Premier15s history.
"It's a really big match. They're level with us in the table so it will be close. It's always a big battle when we come up against them and always a big battle when we come up against any of those top sides. It will be nice to be back at home and it should be a really good game."