Coaches embark on Sensory Skills course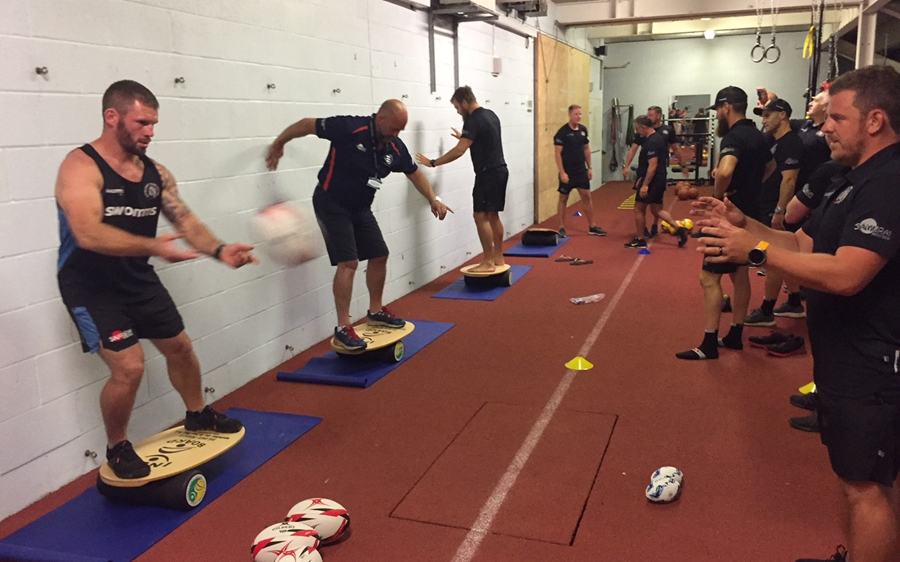 By Flo Eggins
08/08/2019
Coaches from the Exeter Chiefs are embarking on a year-long training course that will support the implementation of a specialised Sensory-Motor Skills programme for Academy players.
The programme has been created by the 'eye-coach' Tag Lamche, who specialises in motor-skills development and has a wealth of experience working with world-class athletes across a wide range of sports.
Exeter Chiefs Academy Manager, Rob Gibson, says he's 'delighted' to be working with Tag.
"A collaboration that is aiming to create a bespoke and world-class Sensory Motor programme for the Chiefs Academy is very exciting and at the cutting edge for our sport," Gibson said.
"On this programme there are more than 150 sensory motor skills to master. Coaches and players are guaranteed a lot of fun on a steep and challenging learning curve. Tag's goal will be to train up the coaches to be expert in the delivery of a Sensory Motor skills programme for the Academy. This will complement the core training at the Club, Academy and Player development level," he continued.
Exeter Chiefs Skills Coach Ricky Pellow took part in the first session and says the coaches have already begun to put some of the multi-skills ideas into practice. He said: "being able to add more detailed and cognitive training is really exciting, and it will be interesting to see where the skills can add to the current programmes."
Speaking about the new programme, Lamche said: "Working in collaboration with Academy coaches, this initiative aims to help create super-co-ordinated young athletes, all with excellent learning and growth mind-sets and outstanding levels of visual and mental focus. Increased activation and concentration skills work will also be implemented with players who are in rehab, as part of helping accelerate their recovery to full match fitness while providing valuable cognitive training."
The coaches will continue their skills development sessions over the next year with the aim of each attaining Gold Level standard on this wide-ranging and very challenging programme.