Dennis eyes the big prize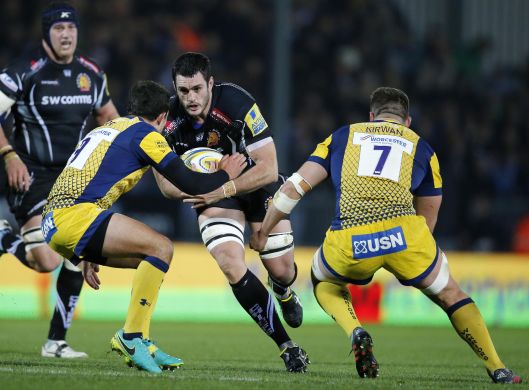 Pictures: Exeter Rugby Club/Pinnacle Photo Agency
By Jamie Hawkins
14/4/17
Dave Dennis says he is enjoying his time at Exeter Chiefs and is eyeing the Premiership title after joining from Australia last summer.
The 31-year-old joined Sandy Park from NSW Waratahs, and although the international suffered a tough start to his Premiership career, he has settled well.
He said: "It was a slow start, and obviously it's my first season here.
"I think it might have been a bit of a worry from the outside, but within the group we were quite confident if we could get our own house in order things would come our way and we've been really consistent, albeit a couple of games where we've had soft moments and leaked try's.
"Outside of that, as a whole our performances have been very consistent over the last four or five months.
"I'm actually really enjoying the English lads, they're a great bunch of guys and it's always nice to have a few Aussies to fall back on when you're coughing a bit of flack, but you experience the culture, and I'm really enjoying Exeter."
With a place in the play-offs secure, Chiefs' next challenge is to secure a home semi-final, and Dennis says the club are in a healthy position as they eye their first ever Premiership title.
"It's an exciting time" said Dennis. "I think even more exciting is that we're in the top four and we've got a great opportunity to push forward and achieve our goal of trying to win the Premiership.
"The majority of guys are fit as well so there are a lot of options for selections which is a healthy position to be as a club, and it's just a matter of trying to ensure that every game we play now until the end of the season is of a high standard."
Chiefs are currently on a five-match winning run, which has seen them collect numerous bonus points, and Dennis says despite the fine form, they cannot afford to get complacent.
"I think belief and confidence is gained from that momentum in winning games and knowing if you play as well as you can as a team, more so than not you'll get the result you want so we've been able to do that.
"But what I found in my first year in the Premiership is it's such a tough competition. We saw last week at Bristol, who are fighting for relegation, and how hard they pushed us.
"We can't be complacent. We have to keep going. No matter how many games we've won in a row, each week is a huge challenge."
Dennis is just one of a number of players who have made the switch from Australia to south-west England, and has noticed numerous differences.
"The main difference for me is the size of the squad. There's a lot of rotation, and also there's weeks where you're not playing rugby.
"Obviously there's time where you get a fair bit of rugby in blocks, but that probably the thing for me that different, and it's a matter of staying on your game, training hard, and keeping your mind nice and sharp to play rugby.
"Part of the experience was challenging myself in a new environment, playing for a different club, hearing different voices, different coaches, experiencing a different style of rugby, different crowds, and all those things come with it, but away from rugby it's also a great opportunity to see the world, which is why it's such a great game."
And the Australian international says former Chiefs skipper Dean Mumm was instrumental in his decision to move to Sandy Park.
"I had a good chat with him about what it was like, obviously there's a little bit of uncertainty whoever you make a decision to move so far away from home, but he reassured me it's a great club great people and he was right on the money.
"We've got a few boys like with Nic White coming, we're joking Mumm's going to be the commissioner for every Aussie that's signed here!"