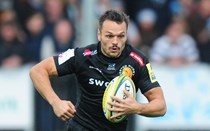 By Nigel Walrond
24/6/18
Exeter Chiefs full-back Phil Dollman is looking forward to the next 12 months after being granted a testimonial to mark his 10 years with the ambitious Devon club.
The 33-year-old Welshman follows in the recent footsteps of his fellow Chiefs Tom Johnson (2016-17) and Gareth Steenson (2017-18) in being given the honour.
"I am absolutely thrilled to be given a testimonial year," said Dollman. "It is not one of those things you think about in advance. You just concentrate on year to year and getting a contract, and playing well and doing well for the team, but then it creeps up on you and you start thinking about it.
"When Tom had his, I started thinking 'I am not actually far away from 10 years now', and I am thankful to the club for what they have done for me as a rugby player, and for them to support me with this is brilliant."
Dollman's nominated charities are the club's own Exeter Foundation, and one other still to be confirmed.
Looking back on his time at the club so far, Dollman commented: "The last 10 years have flown by and I can still just about remember my first game for the club, away to Moseley, but it has been good and I have really enjoyed it, which is the main thing," admitted Dollman.
"Myself and my wife had just bought a flat together in Wales and all of our family are there, so it was a big move to get out of the country and come down to Exeter. Even though it is not too far, it was still a big step and I was quite young then.
"We haven't looked back since we got down here and we settled really quickly and we now call Exeter home and it is somewhere we would love to settle in. The kids are nicely settled in school, which is important, and we are enjoying it here."
Looking back over the past decade, getting promotion from the Championship and winning the Premiership are two obvious highlights that stand out.
"It is good to remember those days and the guys who you played with," said Dollman, who is one of the so-called 'Originals' – the players still at the club who were part of the team that came up from the Championship in 2010.
"A lot has changed at the club, but I still like to think the squad feeling is still very much the same from that first year.
"As a player I have changed quite a bit as well. I was playing a lot at 13, and at full-back, a little bit all over the place, but now I have seem to have settled at full-back, but it has been brilliant, I have made some good friends and it has been a good work place, if you can call it that."
Dollman, together with those other players who have been at the club a long time, has helped keep the strong ethos going at the Chiefs, but he said: "It is not just the players that drive it. We do a big part of it, but it comes down from the coaches, the conditioning staff, the physios – they are all of a similar ilk, everyone has got that same attitude around them about work, and around rugby, and around coming in and enjoying it. so that helps, because as players we don't feel like we are on our own then.
"We feel like we are one big squad with the staff, which I think helps.
"It is not just down to the old heads and the 'Originals' to lead that. The guys have picked it up as they come through, and some of the younger guys have been here for a long time, and everyone understands it, and the new guys coming in quickly pick it up, and the changing room and the atmosphere works really well."
Dollman and his fellow players will return for pre-season training on Tuesday, starting with a three-day team-bonding trip to Ibiza before the really hard work starts.