Exeter 7s launched in the City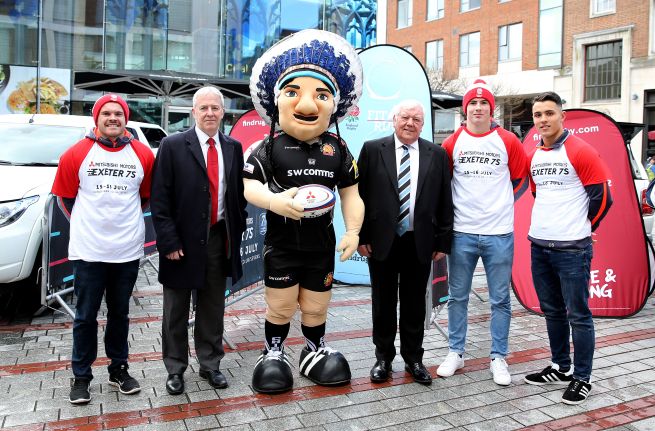 Picture: Pinnacle Photo Agency
• To buy tickets to the Mitsubishi Motors Exeter Sevens, click here
By Mark Stevens
24/3/17
The Mitsubishi Motors Exeter 7s is returning this summer to Sandy Park and helping to celebrate the news were members of the England Sevens squad.
Fresh from winning the HSBC Vancouver 7s, Tom Bowen and Charlton Kerr, alongside England Sevens Academy player Callum Sirker, joined the Deputy Lord Mayor and a host of other dignatries for the official launch, which took place within the City Centre.
Hundreds of passers-by got the chance to test out their rugby skills against the England players with passing and accuracy challenges, as well as the chance to win prizes.
"It was great to meet the Exeter locals today and see their excitement ahead of the Mitsubishi Motors Exeter Sevens this summer." said England star Tom Bowen, himself no stranger to the region having previously played for Plymouth Albion.
"It's a great tournament and a brilliant experience playing different teams on the European circuit. If you're new to rugby I recommend you get down to Exeter this July to take in the sport- with lots of tries and fast-paced action on the pitch and entertainment throughout the fan village, it's a weekend not to be missed."
The Exeter round will be the final stage of the Rugby Europe Sevens Grand Prix Series 2017 that kicks-off in Russia June 3-4, then moves to Poland on June 10-11.
With thousands of fans heading to Sandy Park over the last two years, the event is set to be even bigger and better than ever, with more rugby and entertainment on offer for spectators.
Tony Rowe OBE, Chief Executive of Exeter Chiefs, said: "The Mitsubishi Motors Exeter Sevens has become one of the highlights of Exeter's sporting calendar, reinforcing its place as the sporting capital of the South West.
"We also hope to see many rugby clubs watching, as well as participating in the great game, through the South West 7s tournament which runs alongside the main event, promising an action- packed weekend of rugby."
This year, clubs from the local area have been assigned an adopted nation to support and welcome to Exeter ahead of their involvement in the tournament, giving them the chance to celebrate and immerse themselves in the traditions and rugby of that nation.
With clubs already designing welcome banners, planning theme nights at their clubhouses, and registering in the South West Sevens tournament, which takes place on the 16 July, this year's tournament is set to be celebrated across the community.
Director of Professional Rugby at the RFU, Nigel Melville, said "It's more than just the on-field rugby, it's about community and through the 'adopt a nation' campaign, it gives the Exeter community an opportunity to rub shoulders with the elite rugby players throughout Europe."
• To buy tickets to the Mitsubishi Motors Exeter Sevens, click here
• To submit your team to compete in the South West Sevens, click here