Exeter backs seal new deals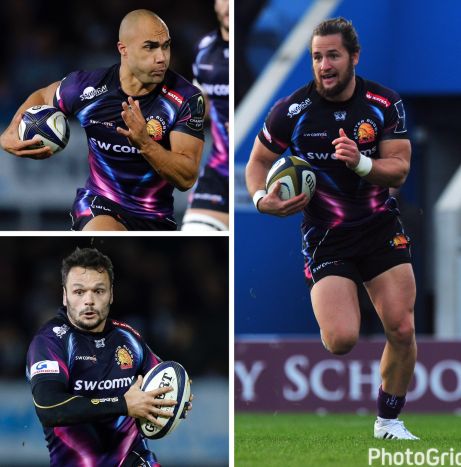 Pictures: Exeter Rugby Club/Pinnacle Photo Agency
By Mark Stevens
26/2/17
Rob Baxter's forward planning for next season and beyond is continuing with the news that three more of his Exeter Chiefs squad have today agreed new contracts with the Avive Premiership club.
Just days after confirming that front-row trio Shaun Malton, Ben Moon and Carl Rimmer had all agreed to prolong their stays at Sandy Park, it's now the turn of Phil Dollman, Olly Woodburn and Michele Campagnaro to follow suit.
Italian international centre Campagnaro has penned a one-year deal, while full-back Dollman and winger Olly Woodburn have each committed their futures for at least the next two years.
This latest news will be warmly welcomed by supporters of the Devon club, who know all about the excitement, talent and skill-set all three players help bring to the Chiefs on the field.
Leading the celebrations on the new deals is head coach Baxter, who believes all three players not only have a bright future ahead of them, but that they can all improve yet further in terms of their development.
Dollman - who was Baxter's first-ever signing as first team coach back in 2009 - has been part of the Chiefs plans since their days in the Championship, while Woodburn and Campagnaro both moved to the Westcountry in the summer of 2015 from Bath and Treviso respectively.
All three have played key roles in helping the Chiefs forge themselves as a force - not only in English rugby, but also that of European rugby - and will no doubt be called upon to help lead the charge moving forward.
Certainly Campagnaro's decision to sign a new deal will now end on-going media speculation that he was poised to depart Sandy Park at the end of the season.
"I think some people thought there were issues between us, but that has never been the case, and Michele has never wanted to leave, and we have never wanted to let go of him,' said Baxter. "He is a great guy, he has worked exceptionally hard. He didn't come in post-World Cup expecting just to jump straight into the team.
"He knew there were a few things he would have to learn, and even though he speaks very good English, there is a difference between that and being communicated with in the hurly-burly of a Premiership rugby game, and having to process it all very quickly.
"I think he has done really well adapting to that and he is improving all the time. He has worked very hard to be as good a player as he can be, but he still has got massive of improvement to make. I think people will see the really good things in his game. He can be dynamic on the ball and get us on the front foot, but there is still plenty to add to his game.
"His time here has been slightly broken up by injuries and international call-ups, and that does make things a little awkward for us, but we have seen in the last month or so, when there has been the opportunity to give him a little bit more game time, we have started to see him shine a bit, and I know Ali Hepher is very keen on working on lots of parts of his game where he thinks he can become a much more rounded player.
" I am delighted he is staying, and I am really pleased he wanted to stay, and I think he sees this as a really good rugby environment for him, and I think it is a win-win story for both of us."
Explaining the reason for only a one-year deal, Baxter said: "His time with us over two years has been slightly broken, and I think it works for both of us, that we can have a good look at how things work for him over the next six months, and he can do the same, but my feeling at the moment is that we will extend his contract very quickly."
Meanwhile, Woodburn has proved to be a superb acquisition from local rivals Bath and his finishing abilities have made him a favourite amongst the Exeter Tribe.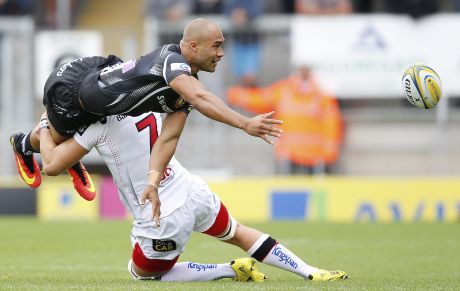 Baxter continued: "The best thing about Woody is that, the more minutes he plays, the better he gets. He was exceptional against Worcester last weekend, He was plucking kick-offs out of the air and getting us front-foot momentum literally all through the game.
"He is becoming a guy who we can rely on to give us moments in a game that will create pressure and try-scoring opportunities. There is the old adage that good players develop by being in and around other good players and by being involved in big games, and I think that rings true so much for Olly.
"I think we will see him keep moving forward and improving as a player for a number of years yet. He is the right age, he has got the right frame and physicality, and the package is there for him to really become a top-flight player. He trains very well now, he is very driven, and he is one of those guys who it will be up to him to decide how big his future is."
As for Dollman, Baxter believes the Welshman has grown in stature year on year at the Chiefs and although delighted with his contribution, there can be even more to come from the versatile and talented back.
"He was the first player I officially signed on my own as head coach, the first contract I put my name to, and he has done exceptionally well for us," said Baxter. "He has played in the midfield for us a number of times in the Premiership, and now people see him as an established full-back, and he is just one of those guys who has added quality to us right throughout our time in the Premiership.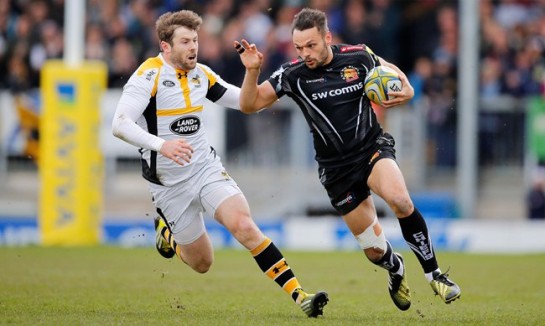 "He is probably one of the most under-rated players we have had here at the club. He has performed at such a high level, has been so durable and consistent, and he has come through the Championship and then the lower ends of the Premiership, into the Champions Cup, and you see him performing in these top-four games and he looks very comfortable.
"I think he has still got a lot of rugby left in him. He is a highly skilled player, very brave, and he is a good guy to have around the club and he is one of those guys who make Exeter what it is."
He continued: "It shows how those players have been able to adapt, because things aren't the same here as when we were in the Championship, or in our early years in the Premiership.
"We have changed our goals and set higher standards and we are expecting more from the players, and we are challenging them in different ways, and I think it is a great testament to those guys that they have been able to adapt to change and thrive on those challenges as well."