Exeter is home from home for Armand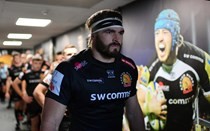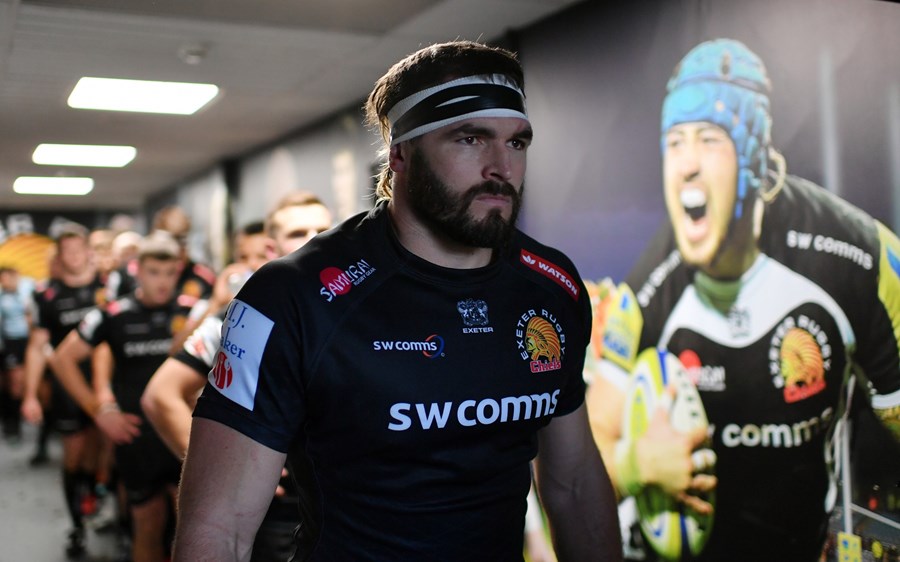 By Mark Stevens
16/5/19
He may see Saturday as 'just another game' but as Don Armand becomes the latest inductee into Exeter Rugby Club's '100 Club' – it's hard not to acknowledge the contribution he has made in such a short space of time.
It was a sun-drenched day in July 2013 when Armand first rocked up at Sandy Park. Unknown to many outside of South Africa, Chiefs' Director of Rugby Rob Baxter – not for the first time during his tenure in charge – talked about how he may have unearthed a hidden gem.
Having made waves back home with Western Province and Super Rugby side, the Stormers, Baxter clearly liked what he saw of the imposing young forward, a player he believed could ultimately help drive the Chiefs onwards and upwards.
Almost six years on, the acquisition of Armand has bore fruit with the 30-year-old not only becoming an integral piece of the Chiefs' on-field make-up, but away from the heat of battle he has become a proven leader whose actions speak louder than words.
"Exeter has become home for me and my family," he said. "Never do I have any regrets about coming here, it's only been positives since moving here. Looking back, it was a big step at the time because I was going into the unknown.
"I didn't know a lot about Exeter, the Chiefs or English rugby for that matter. It was all new, but that kind of made it exciting as well. Now, I wouldn't substitute anything, I'm very proud to be where I am."
Although Armand's first season in Devon was largely restricted to cameo appearances off the bench, he did end it by helping his new club to their first piece of silverware, the Chiefs defeating Northampton Saints 15-8 to lift the LV= Cup.
That first season proved the perfect foundation from which the Harare-born forward could build. Indeed, by the time the Chiefs gathered for the following season, Armand was now firmly in the thoughts of Baxter and his fellow coaches.
A near ever-present that season, Armand has not looked back since, helping the Chiefs to establish themselves not only as a proven force within the English game, but also that of European Rugby as well.
Title success over Wasps at Twickenham in 2017 has been sandwiched by the disappointment of final losses to Saracens either side of that success. The most recent of those setbacks came last May, when the Chiefs were undone by the Londoners in the end of season showpiece.
Having tasted success just 12 months earlier, it was a bitter pill to swallow for Armand and his fellow Chiefs. That said, the way in which they have gone about their business this season underlines just how strong this current playing group really is.
Not only have they soaked up that disappointment, but they responded in a way that augurs well moving forward. Not only have the Chiefs booked their place in the end of season play-offs in record-breaking time, but there is a hunger within that Armand insists is driving everyone on.
"As a group we know the importance of these next few weeks," added Armand. "There is competition amongst us all, which is good, and there is a genuine buzz and excitement about the place. Guys are not afraid to talk about how they feel going forward or how much they want it.
"Only time will tell how we go, especially as the pressure comes on, but I've no doubt the guys will rise to the challenge. Whoever we face between now and the end of the season, it's going to be a huge test for us.
"We've got Northampton this weekend, whoever next week, then – hopefully – a final to look forward to again. Right now, the focus is on Northampton and nothing else. We have to use this game as a dress rehearsal for what we have coming up.
"They beat us up at their place earlier in the season, so they'll have their tails up, but at the same time we want to get out revenge on them. Both of us have plenty to play for, so it should be a great occasion."
However, having home advantage these next two weeks will certainly aid the Chiefs cause.
"We have a fantastic home base," continued the England international. "Sell-out games we are kind of used to now. What we have to focus on is making sure we produce these big performances, get the crowd behind us and see where it ultimately takes us."